ST. LOUIS (ResourceInvestor.com) — At the European Investor Metals and Mining Forum at the London Stock Exchange today, GMP Securities Chairman Eugene McBurney asking two burning questions about the current commodities cycle: "How long the cycle is going to last" and "Where do we go from here?" So let's get going.

How Long Will the Cycle Last?
According to McBurney, the difference between this cycle and previous cycles is the new participants: Hedge funds and ETFs.
"The impact of the hedge funds and commodity funds is dramatic," he said.
According to Barclays Capital, money in index-linked commodity funds will rise 38% this year to $140 billion. The Goldman Sachs Commodity Index alone has risen from about $5 billion at the start of the decade to more than $80 billion today.
In March, hedge funds, as measured by Standard & Poor's Hedge Fund Index, gained 1.16%, the third consecutive month of positive performance, the rating agency said today.
"Hedge funds are not constrained by regulatory of fund restrictions; they can hold different asset classes and derivative products; they can be long or short," added McBurney.
Furthermore, ETFs, the newest investment vehicles for commodities, have amassed a substantial amount of inflow capital, McBurney said.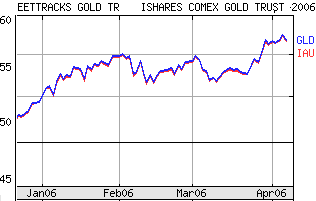 The iShares Comex Gold Trust [AMEX:IAU], launched in January 2005 by Barclays Global Investors, holds another $671 million.
More than $6.5 billion has poured into State Street's StreetTracks Gold Shares ETF [NYSE:GLD] since it was launched in November 2004, the first U.S. ETF to invest directly in gold bullion.
The price of silver has shot up by 28% this year alone as Barclays' iShare Silver Trust ETF nears approval at the SEC. Silver closed at $12.56 on NYMEX today – a 22-year high!
But McBurney added that "there's no one single panacea, there's no one single driver in this whole thing."
He made note of the rising demand from China and India, diminishing inventories and geopolitical concerns.
In addition to metals, McBurney said there are three places in mining energy, or "minergy," to make money as well: compliance coal, uranium and oil sands, including coal-bed methane.
The fundamentals are in place for a commodities "super-cycle," he said.
Where Do We Go From Here?
Initially, gold equities led the rally, with copper and nickel close behind, said McBurney. Uranium and coal have since followed, with zinc most recently taking the spotlight.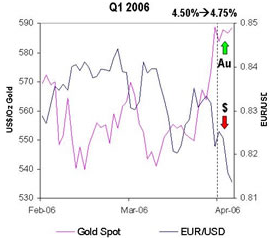 With that said, McBurney believes "the gold/silver cycle will be the first one to go down, but not for a long time." This cycle will "begin to end" when the U.S. economy begins its recovery, he said.
The supply side will pull back when demand dissipates, so it's important to watch China and India. But again, this will not happen "for a long time," he added.
"Volatility will remain a key driver," said McBurney. "I think you're going to see pull backs in the current overheated market place."
But "we have a long way to go in all these commodities" with the 'minergy' plays lasting the longest, he concluded.
Commodity Price Activity
Gold for June delivery closed up $9.10 at $601.80/oz today on NYMEX to mark the highest session-end price for futures since December 1980.
May silver closed up 49 cents or 4.1% at $12.56/oz, following a new 22-year high of $12.61/oz.
May copper set a new all-time high of $2.712/lb before closing up 6.85 cents, or 2.6%, at $2.709/lb.
July platinum finished up $28.90 or 2.7% at $1,105.90/oz, following a record $1,108 level.
June palladium rose $6.70 or 1.9% to close at $359.8/oz, a futures-price level not seen since mid-2002.
Crude for May delivery closed up $1.35, or 2%, at $68.74 a barrel, having touched a high of $68.95.
Source: Resource Investor