The Euro has been on a tear against the Dollar for some time now. We have come up much faster and farther than most people thought, myself included. We have already seen this market stall but we have yet to see much of a correction. While longer term I remain bullish, in the near term I am quite bearish. As you know corrections within a rally are a normal, healthy, and needed part of any bull market. The Euro is no exception.

Click image for larger version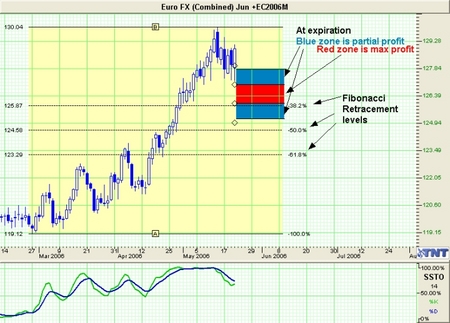 Market: June 2006 Euro Currency (ECM6)
Tick value: 1 point = $12.50
Option Expiration: 06/09/06
Trade Description: Bear Put Ladder Spread
Max Risk: $250
Max Profit: $1000
Risk Reward ratio 4:1
Buy one June 2006 Euro Currency 128 put, also buy one June Euro Currency 125 put, while selling one June Euro Currency 127 put, and sell one June Euro Currency 126 put. For a combined cost and risk of 20 points ($250) or less to open a position.
Technical / Fundamental Explanation:
This trade is short term as it expires the second friday in June. That is because I am expecting the Euro to stage a rather quick and dramatic fall over then next few weeks, but after that the bull run should resume and we will very likely be going long in mid June. A normal Fibonacci retracement level is 38.2%, if you notice on the chart above, the bottom end of our max profit zone lies directly at the 38.2% retracement level. This is of course by design because the 38.2% fib retracement level is our target. A 38.2% retracement is perfect for a longer term bull market.
This type of "shakeout" normally takes out most of the "weak hands", and you can see this by watching the small spec position on the Commitment of traders report, which at this time is quite large and comes down as the market falls. All in all this is a very low risk way to be short the Euro for then next few weeks while getting 4 to 1 on your money. This trade can also be used as a partial hedge for any traders still long the Euro.
Profit Goal:
Max profit assuming a 20 point fill is 80 points ($1000) giving this trade a 4:1 risk reward ratio. Max profit occurs at expiration with Euro Currency trading between 127 and 126. The trade is profitable at expiration if the Euro Currency is trading any where between 127.80 and 125.20 (break even points) which means we have a band of 260 points in Euro Currency that we can profit in! * Contact Odom & Frey for more details.
Risk Analysis:
Max risk assuming a 20 point fill is $250. This occurs at expiration with the Euro Currency trading below 125 or above 128.
Matt Odom
1-866-636-6378
www.odomandfrey.com
Past performance is not indicative of future results. Trading futures and options is not suitable for everyone. There is a substantial risk of loss in trading futures and options.