The Rogers International Raw Materials Fund was designed to replicate the Rogers International Commodities Index (RICI). The Index was developed by James Beeland Rogers, Jr. to be a balanced, long only, representative, international raw materials index. The Index Fund's primary objective is to provide an alternative investment vehicle for investors with diversified portfolios.

click on the chart to enlarge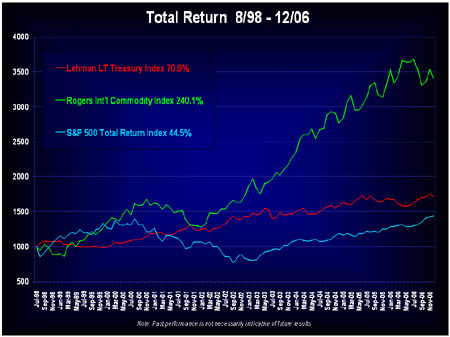 Beeland Management Company, LLC is the general partner and commodity pool operator of the Fund. Jim Rogers is the majority owner of Beeland Management. For more information contact Uhlmann Price Securities, LLC, a full service brokerage firm located in Chicago.
Mr. James D. Baer
Managing Member
Uhlmann Price Securities, LLC.
Chicago Board of Trade
141 W. Jackson Blvd.
Suite 1340A
Chicago, IL 60604
Phone: (312) 264-4400
Fax: (312) 264-4401
Toll free: (800) 444-7075
An investment in commodities and/or managed futures carries a significant risk of substantial loss. The information provided should not be considered as investment advice or an offer of any security for sale. Past performance is no guarantee of future results.