The global current account deficit of the United States is now larger than it has ever been—nearing $800 billion, almost 7 percent of US GDP. To finance both the current account deficit and its own sizable foreign investments, the United States must import about $1 trillion of foreign capital every year or more than $4 billion every working day.

The situation is unsustainable in both international financial and domestic political (i.e., trade policy) terms. Correcting it must be the highest priority for US foreign economic policy. The most constructive remedy in the short term is a three-part package that includes credible, sizable reductions in the US budget deficit, expansion of domestic demand in major economies outside the United States, and a gradual but substantial realignment of exchange rates.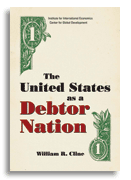 This study examines whether the large and growing current account deficit is a problem, and if so, how the problem can be solved. A central policy conclusion of this study is that it is increasingly important that the United States reduce its external current account deficit. This deficit is no longer benign as it arguably was in the late 1990s when it was financing high investment instead of high consumption and large government dissaving.