The question has been posed by the media, market analysts and every individual who has an interest in the financial markets direction. The greatest thing about it is that NOBODY KNOWS where the market is headed next. Yes, there are theories, hypotheses and guesses, but only the market knows where it will be headed next. And the market reacts to traders' emotions, opinions and strategies as well as speculators' biases.

The past two months have been rough for equity players and continue to be choppy as the market attempts to find a bottom. A 10% correction in a bull market is what it widely considered as just a consolidation in a long term bull run; however, we have yet to have this correction although we are closely approaching it. We happened to be checking some of our charts to see what patterns were developing.
Below is a chart of the S&P 500 futures (continuous) from July 2003 to June 28, 2006. As you can tell, we have been in a fairly strong bull cycle as the market has run from around 950 to today's level of 1250 (31.5%). Although the market has struggled the past two month, this move is very similar to a few of the "corrections" in the past 3 years.
Take a look at these three previous "corrections".
Move 1 – 1150-1060 in 8 weeks (7.8% correction)
Move 2 – 1225-1140 in 7 weeks (6.9% correction)
Move 3 – 1250-1175 in 6 weeks (6% correction)
Move 4 – 1330-1230 in 8 weeks (7.5% correction)
click on the chart to enlarge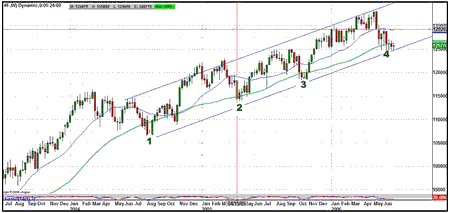 Each of these moves are extremely similar in a few aspects. First, the time-frame for the market to make each of these corrections were between 6-8 weeks each. Each correction was a move of 6-8% (average of 1% per week). Lastly and most importantly, prior to making the correction, the market had reached multi-year highs and proceeded to make new multi-year highs directly after finding their respective bottoms. According to this chart, excluding exogenous factors (Iran nuclear capabilities, energy prices, the Fed, etc), we may see a bottom forming and a quick trek up to new multi-year highs.
We do not take an opinion on which direction the market will move next, but this depiction of current market conditions was too good to pass up for a hypothetical situation. We will see if it pans out or not, but either way, we will take advantage of the opportunities the markets presents.
by Charlie Santaularia
Managing Director
Parrot Trading Partners, LLC
cell 785.766.0773
office 785.749.0000
www.parrottradingpartners.com