Crude oil has drifted in a narrow sideways channel for over two months now. OPEC has recently hinted at another production cut to further stabilize price. Today we saw inventory numbers for crude and distillates lower than expected. At the same time we have colder weather bearing down on us. The following is an excerpt from today's issue of Gulf Times from Doha, Qatar:
"Price support is coming from a range of different factors at present, including forecasts of a change to below normal temperatures in the US northeast for later this week and early next,"
Barclays Capital analyst Kevin Norrish also said that crude futures were being boosted by expectation that dollar weakness could boost re-stocking activity of products such as heating oil in some major consuming markets such as Germany.

So you can see that the weakening dollar is the the rising tide that lifts all ships. Crude is poised to move back into the mid sixties in the near term and this trade is designed to profit from exactly that.
click the chart to enlarge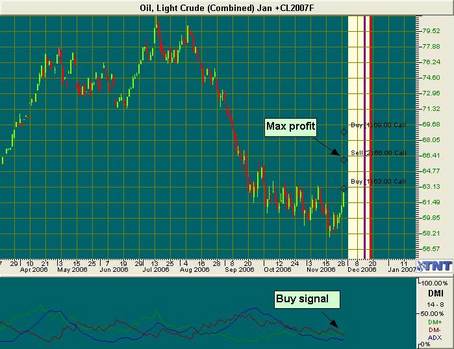 Trade Recommendation
Buy one January 2007 Crude oil 63 call and buy one January 2007 Crude oil 69 call while selling two January 2007 Crude oil 66 calls for a maximum cost and risk of 70 points ($700) or less to open a position.
Profit Goal:
Max profit, assuming a 70 point fill, is 230 points $2300 and occurs at expiration with crude oil trading at $66. The break even point at expiration is 63.70 and 68.30. This leaves us with a profit zone of 460 points between the break even points!
Risk Analysis:
Max risk, before commissions and fees, and assuming a 70 point fill, is $700. This occurs at expiration with January Crude oil trading below 63.00 or above 69.00.
Derek Frey
Odom & Frey
www.odomandfrey.com
Call us at 1-866-636-6378