The S&P 500 has run 170 points (13.8%) essentially unabated since July's low of 1230. It's as if the market earns brownie points each day for setting new multi-year highs, just as an alpha male earns brownie points for flattering remarks toward his girlfriend. The problem here is that the air up here is getting thin. It is getting tougher and tougher to breathe. Although the market has consistently made higher highs over the past four months, several things have caught my eye and make me slightly uneasy with the market's current valuations.

Ok, so I have to admit, I'm not that queasy. The market looks strong. The economy looks like it may be in for a soft landing. Earnings have surprises in every sector of the market. Even the few misses were not atrocious and only affected the markets in the short term. Inflation has flat-lined. And energy prices continue to drop precipitously from their August highs.
However, I do have a few problems with the thin air up there making the market extremely vulnerable. One of the vulnerabilities in the marketplace is the housing sector. The housing market is looking weaker than ever, yet soft-landing protagonists continue to believe this drop is lending support to the "Goldilocks" economy as it gives the Fed an "out" for any more monetary tightening.
*Quick Note on the effects of thin air: Those who know the effects of thin air probably know about hypoxia or the deprivation of adequate oxygen supply. The effects of hypoxia can be fatal. It can happen to anyone, including perfectly healthy people (hence the analogy to a "healthy" looking market). Generally these symptoms happen at high altitude where the air is "thin" because of the lack of oxygen available.
Pressures to unload houses have gathered steam. Instead of slashing prices to unload inventory, builders are offering extra incentives such as furnished homes, upgrades, below market loans and even cars. In fact, builders are sounding more and more like car dealers as they begin to offer rebates, markdowns and creative financing solutions. Even after all that, inventories continue to drop precipitously. In fact, if you look at the chart below, you can see the trend yourself. As you take a closer look at the data, you will notice that after the initial new home sales release, the revisions are trending ever so slightly downward.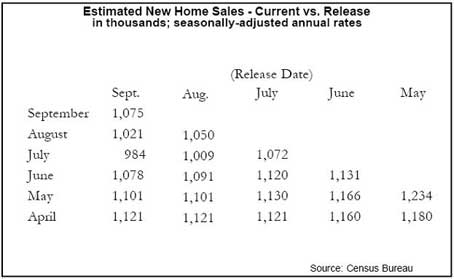 Furthermore, note the upward revisions in the estimated new home inventories since their initial release. This could be very typical of falling markets where strong data (in inventories) is revised upward while weak data (in home sales) is revised downward. The spiral continues across the board.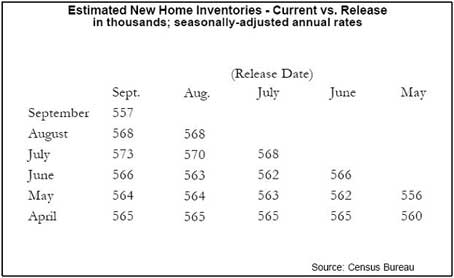 Now, what happens if you put these two charts together? Below is the relationship between new home sales and inventories. As you can see, monthly inventory supplies of new home sales has reached a high we have not seen since the late 1980s real estate bust. Sales have also severely slackened since late 2005 and are now facing real pressure to drop even further as speculators look to unload these homes. According to the National Association of Realtor's 28% of all 2005 purchases were for investment while another 12% were for vacation homes. For all practical purposes, 40% of all purchases in 2005 were for speculative reasons! Effectively, many of these homes are vacant and are draining the owner's pocketbook. It must have felt better when they purchased, not yet knowing they purchased at the top.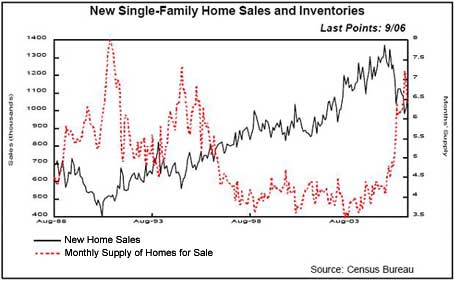 The equity markets have not seen this type of rally in several years, but the housing market has not had a bubble like this since the late 1980s. During that period, the housing market busted and shortly thereafter, the equity markets followed. The S&P 500 fell from 330 to 230 (a 30% drop). Are we approaching the same type of drop as we saw 20 years ago? Although we don't foresee that type of drop, we have to mention that there is always the possibility.
In my last article, I compared traders to greedy Halloween kids, but this time around a new analogy has come to mind; Inebriated investors. Some investors who are jumping on the bandwagon now must be slightly inebriated. They jump because everyone else has jumped and they know nothing better except to follow their drunken friends. With more and more people jumping on board, this leaves all the buyers on the top of the mountain with a lack of oxygen. Effectively, all the buyers are on board while the sellers are on the sidelines waiting for the perfect moment to take advantage. That perfect moment will happen when they begin to sober up and realize that there may not be enough air up there to breathe, leading to lower ground and thicker, more plentiful air. That is when the sellers will begin their onslaught and correct the market to more favorable valuations.
Another interesting point to make is that the markets are taking bad news in stride and ignoring it with tenacity. Last Tuesday, two of the largest retailers in the world, Home Depot and Wal-Mart, reported earnings and guidance. Home Depot's earnings were much weaker than expected and both Home Depot and Wal-Mart lowered their guidance. You would think that the market might react to these two bellwethers by driving their stock prices down. Instead, the market rewarded them by driving their prices up 4.4% and 2.9% respectively. This may be a sign of complete inebriation of traders often associated with market tops.
I am not suggesting a top today or tomorrow, but at sometime in the near future. The signs are there. The type of action the market is experiencing right now, in the face of pressure on the economy, may be too much for the market to sustain. Indeed, the air at 1400 is much thinner than the air at 1300 as we are gasping for air. It is almost as if the oxygen bottles (S&P 500 earnings) that we utilized on the way up are completely spent.
Will the Santa Claus rally ensue, sweeping Santa and his sleigh up into the thin air too? Or has Santa come early this year? Only time will tell.
By Charlie Santaularia
Managing Director
Parrot Trading Partners, LLC
cell 785.766.0773
office 303.284.9232
www.parrottradingpartners.com
charlie@parrottrading.com