If you haven't noticed it, be cognizant that major financial markets around the world have been reaching record highs. I am sure you already knew that, but it's great news for the everyday investor. Although this is all fine and dandy, be alert that some analysts and researchers have been talking about the "frothiness" of these markets and are noticing some signs of topping out in the U.S. One of the markets we follow closely is the S&P 500 and it turns out there was a major sign of a market topping chart pattern just a few days ago on Tuesday the 16th.

During our analysis of the daily charts, we noticed what is commonly known and referred to as a doji candlestick pattern. A doji looks like a cross, inverted cross or plus sign such as the one below. Technical analysts attempt to look for certain chart patterns over several time frames and theoretically predict future price movements off of chart patterns. A doji candlestick is one of those patterns.
Many technical analysts believe that the doji is the most important candlestick to recognize as it often marks the beginning of a minor, intermediate or major trend reversal on a daily chart. Failing to recognize these patterns could result in being on the wrong side of the market at the wrong time.
Please note that there are four types of dojis; common, long-legged, gravestone and dragonfly. All of them occur when prices opened and closed at the same level so that no real "body" is visible; however, the difference lies in the look of each doji candlestick. See the table below for a better look at the different doji patterns.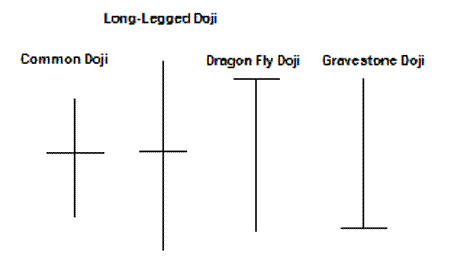 Let's take a closer look at the daily chart of the S&P 500 in which a doji candlestick appeared on Tuesday. In this chart of the S&P e-minis (ES M7) you should notice the four highlighted dojis. The first doji came as the market attempted to recoup losses from Feb. 27th; however, the market opened and closed at or around the same level so that no "body" was visible in the candlestick. This doji is referred to as a common doji. Since it was coming on the back of strong gains over the past week, it was a signal that the market needed a rest and subsequently the market began to tumble shortly thereafter.
click on the chart to enlarge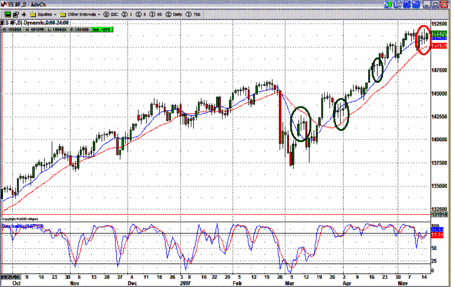 The second doji came just after some consolidation after more March gains. This is considered to be a long-legged doji because of the size of the trading range, or size of its "legs". Again there is no visible body on the candlestick showing the market opened and closed at the similar prices. This particular doji signaled the bullish trend that was present was likely to continue and in fact, the market continued to rally.
The third doji appeared after several strong gains in the market. On this day, the market opened higher then began to consolidate by moving lower only to meet more buyers at the lows and recover all the losses to finish near the open, which was higher to begin with. This is considered a dragonfly doji and has bullish implications in a bullish market as the sellers could not hold their ground.
The last doji and most important in my mind is another common doji and it has happened at a point of congestion for the markets. New highs continue to be pressured and have since created some resistance near 1515-1519. On Tuesday, the market made new contract highs in the June futures only to find more resistance and retreat back to finish near the open, creating a doji that some will refer to as a short-term to intermediate term end to the bull run. You should also notice the congestion that is beginning to happen near 1500-1520 showing some signs of fatigue in an impressive bull run.
Although I am aware of the potential consequences of the doji candlestick pattern, it will be hard to pressure this market lower if positive economic data continues to come into the Goldilocks' household. A bearish doji does not imply an immediate move lower, but it signals a good probability of it doing so over the course of the next few sessions. We will continue to watch this play out as it is options expiration week and will tend to have a bullish bias anyway.
By Charlie Santaularia
Managing Director
Parrot Trading Partners, LLC
cell 785.766.0773
office 303.284.9232
www.parrottradingpartners.com
charlie@parrottrading.com