"From Indian antiquities to modern Chinese art; from land in Panama to Mayfair; from forestry, infrastructure, and the junkiest bonds to mundane blue chips; it's bubble time!" By now you have probably heard this quote by Jeremy Grantham in his letter to investors (which includes vice president Dick Cheney and a host of other high profilers) discussing a six week trip around the world and the pending bubble popping events to come (at least by his predictions). Grantham is not the only forecaster that has mentioned the overvalued prices of assets across the globe. Most recently (May 23rd), in one of Alan Greenspan's consulting appearances he mentioned that Chinese markets were at unsustainable levels.

Remember February 27th, 2007? The 4% drop in the US markets were widely considered to be to the detriment of Greenspan's comments with regard to his comments that day of a 1/3 probability of the U.S. falling into a recession in 2007-08. Quite possibly he is early, but he obviously wants to go on record with his view just as he did when he was early in his "irrational exuberance" speech in 1996, yet he still has a point. Grantham makes just as good of a case in his letter, which we will take a closer look.
Taking into consideration some of the thoughts from Jeremy Grantham, we can see that markets across the globe have been hitting record highs for some time now while others are just beginning to penetrate these new levels. Here's a list of 10 markets that have posted new record highs in the last week or two (See Chart below). The percentage gains of each market are from the beginning of 2003 through this past week of trading. As you can see, the U.S. markets have been lagging all other indices respecitively.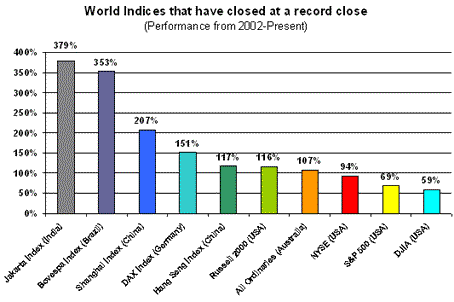 (There are several other markets that are within a few percentage points of their all-time highs, but I decided to only list some of those that actually broke records.)
So what exactly gives? Well, the markets have been driven by steady worldwide growth (see chart below) over the past several years and a liquid credit market making it easy to borrow money and put it to work. U.S. markets have been held up by earnings growth, which has slowed in this past quarter, and a record number of private equity deals or mergers and acquisitions.
See the chart below for an overview of the world's GDP growth from 1980-2008 projections provided by the International Monetary Fund (IMF). As you can see, since 2003 we have been at a growth rate higher than any of the previous 27 years. That has helped propel worldwide equity markets to the record levels of today.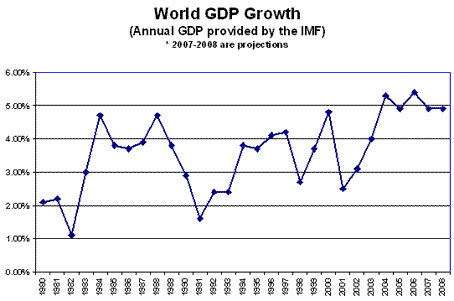 It is easy to get caught up in all the attention given to markets that are propelling to new highs. Really, who would want to miss out on a major bull market? The problem (as is usually the case) is the timing of the Grantham's so called "worldwide bubble". The markets are flatter than ever in terms of connectivity, communication and correlations mainly due to the internet's rise in accessibility. Does that mean that if our market were to tank the emerging markets will follow? Not likely, as the U.S. markets have been one of the weakest performers over the past 12 months. With that said, we also have the most stable and predictable economy in the world.
Many analysts believe a shock to the Chinese markets may cause a windfall of turbulence for other world markets much like it did in late February. With that said, the Shanghai index fell 6.5% on May 30th. Those same analysts would have expected a drop in the U.S. markets due to the shock. However, all major U.S. indices opened at the lows only to post record highs. Now, the activity we saw that day is now merely a blip on the screen. Although the world is more globalized and has a horizontal marketplace, one can not assume that market shocks will have worldwide impacts. May 30th is a great example of the isolation to a single financial market with no overflow effects.
If we are truly in an asset bubble at this time, there is always a catalyst to burst the bubble; what is it going to be this time? Jeremy Grantham says that "We (GMO, his investment firm) haven't agreed yet on a catalyst for 1929, 1987, or 2000, or even the South Sea bubble for that matter." He does however offer two main areas of concern; inflation and lower profit margins. Inflation may prompt the Federal Reserve to take monetary policy actions; whereas, the drop in profit margins over time could hinder financial market's ability to maintain these high levels.
It will be interesting to see if either of these two factors come to fruition, but one thing is for sure…market's around the globe have enjoyed a great amount of growth in the past five years. Whether we come to a screeching halt or slowly contract these gains over time and the timing of either of these scenarios is the question that no one really knows. That is why the financial markets intrigue so many intelligent individuals. Until next time, enjoy the ride.
By Charlie Santaularia
Managing Director
Parrot Trading Partners, LLC
cell 785.766.0773
office 303.284.9232
www.parrottradingpartners.com
charlie@parrottrading.com