This is a trade on tomorrow's G7 meeting. The European Union has publicly stated that the appreciation of the Euro against the Dollar is becoming an ever increasing problem for its exports. Part of the discussion at the G7 meeting will be how to deal with this issue and our sources tell us to expect the Europeans to push hard for stabilization of the Dollar. Today we saw the Dollar index hit new 40 year lows, so with this trade we are obviously bottom fishing but by keeping risks below $300 we feel the potential reward far out weighs the risk. If the Dollar does in fact stage a bounce we are targeting a move back up to at least 80.

click on the chart to enlarge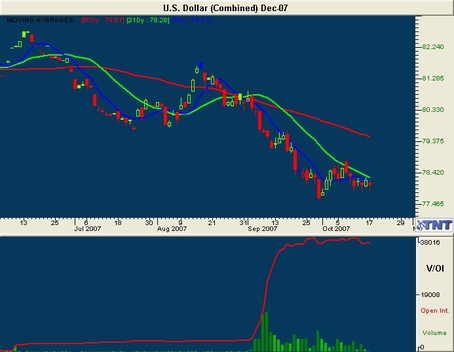 Trade Recommendation
Buy a December 2007 Dollar Index 79 calls for a max cost and risk of 30 points ($300) or less to open a position.
Profit Goal:
Our goal is to catch a move back up to 80 on the December Futures price. Break even assuming a 30 point fill would be 79.30. A 100% gross profit would be realized if the Dollar index trades above 79.60 and 200% would be realized at 79.90.
Risk Analysis:
Max risk, before commissions and fees, and assuming the above mentioned fill would be $300. The full premium paid for the option is lost at expiration if the market expires below 79.
by Derek Frey

Odom & Frey

www.odomandfrey.com

Call us at 1-866-636-6378