Cotton prices added another 25 points on the up side Friday, with December closing near its high at 6540. While this closing strength gives rise to a short term low now being in place I do not trust the long side. Why, because of the drop in the Dow.

Yes, 6750 is now the next upside target, but as I have been saying the fundamentals in cotton are bearish and while technically prices seem poised for further strength, failure to follow through on the upside may also appear to some as bearish. (See chart below for early e-trading in cotton)
How bearish, not very, but enough to prompt a dip back into support. The trend is up and will not change unless 6200 gets breeched. Do I think that will happen? Not likely. Instead I believe that prices dips should be used to acquire longs. On Friday, "Informa" released its projected acreage estimates for next year's planting. These number s 9.4 million verses 10.8 last year provided support and are likely the first of many that will be forth coming in support of substantially reduced cotton US crop.
Support: 64.50, 63.10, 62.20
Resistance: 65.45-65.80, 66.05-66.20,
click on the chart to enlarge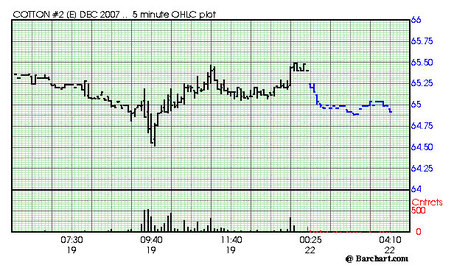 click on the chart to enlarge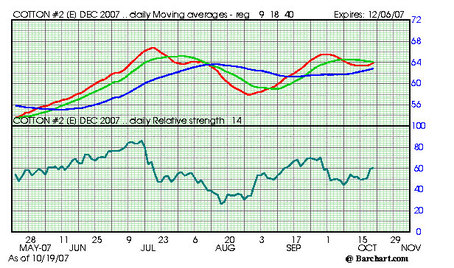 by Jurgens Bauer

trading floor: (212) 748-3898

cottoncomments@gmail.com