During the past two months the price of Gold has traded from $652.00 on August 16th to $765.50 on October 15th. This has truly become a "Bull" traders dream. Most of this tremendous upside, in my opinion, can be attributed to a very weak U.S. Dollar caused primarily to the credit crunch in the housing sector.

Since the FOMC cut rates ½ point it has helped stabilize the Stock Market but many traders and economists believe there may be another cut coming. The housing sector is a very important arena for Gold traders to keep an eye on. This has become an indicator that truly reveals the economic climate. Gold thrives when the U.S. Dollar is under fire and with the potential for record foreclosures on the horizon the forecast for the Dollar may not be so good.
The geopolitical environment has been very uncertain as well. During this same two month period the tensions in the Middle East have not abated much. Gold tends to prosper in a war environment, and especially when the region could affect the price of Crude Oil. Speaking of Crude Oil, it has rallied over $10.00 per barrel in the same two month period.
I have traded the Gold market using the bull call spread strategies for the most part during this huge rally. Due to the huge ranges in the Gold on a daily basis, I feel it is safer and offers a manageable risk-to-reward scenario than trading outright Gold futures. It has worked out well so far, yet markets do correct sooner or later and we will keep a close eye on for signs of a break in this uptrend.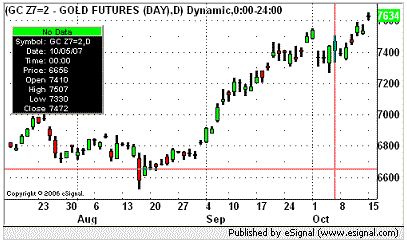 That said, I believe with the upcoming Indian wedding season quickly approaching and our own Holiday season just two months away, the demand for physical Gold should be steady. Unless Gold production is raised, I look for the price of Gold to continue its rally.
Trade Smart…
Futures and options on futures entail substantial risk and
therefore are not suitable for all investors.
Mike Daly -Senior
Trader
Manduca Trading
888-282-2770 /
312-987-2077
www.manducatrading.com
mdaly@manducatrading.com
www.dalygoldreport.com
THERE IS RISK TRADING FUTURES AND OPTIONS….