December U.S. Treasury bond futures on Wednesday rallied two a fresh two-week high as the bulls regained some fresh upside technical momentum. Price action Wednesday also challenged a downtrend line drawn off the September and October highs. A push and close solidly above that down-trend line, to negate it, would provide the bulls with better upside technical momentum. There is some solid technical resistance also located at the October high of 112 10/32.

click on the chart to enlarge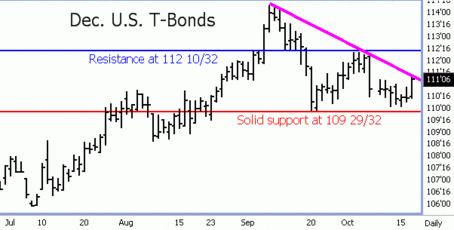 The bears would regain fresh downside technical momentum to suggest another leg down in prices if they could push and close December T-Bond futures below solid technical support at the September low of 109 29/32. Stay tuned!
Need help on better entry into, and exit from, markets? I have an e-book called "The Art of Effective Stop Order Placement in Trading Markets." You can buy it for only $14.95 by clicking on the "SUBSCRIBE" section of my website at www.jimwyckoff.com . If you are like many traders who feel your market entry and protective stop placement methods need improvement, then my e-book will be a valuable resource to you. I also have an e-book entitled "62 Rules Used by Profitable Futures Traders," which sells for $19.95. These are the best trading investments for under $20.00 you'll ever make! All of my educational products are designed to be easily understood and are in "plain English."