December gold futures were under strong selling pressure Thursday morning on profit-taking pressure from recent gains. No serious chart damage has occurred recently. See that the shorter-term moving averages I follow (9- and 18-day) are still in a bullish mode, as the 9-day is above the 18-day moving average. The recent higher volatility at higher price levels–both on the upside and on the downside–does slightly favor the bearish camp and is one very early technical clue of a topping process in the gold market. But I would not call it a strong technical clue. However, and more importantly at present, the price uptrend in December gold futures remains in place on the daily bar chart.

"The trend is your friend" is a tried and true market adage in futures trading. In fact, when all else is said and done, price trend in markets is the most important technical aspect of analysis and trading.
click on the chart enlarge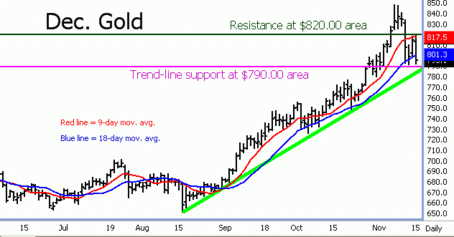 There is strong trend-line support in December gold at the $790.00 area, at present. A solid breach of trend-line support would produce serious near-term technical damage to at least begin to suggest that a near-term market top is in place in the precious yellow metal. Stay tuned!
Need help on better entry into, and exit from, markets? I have an e-book called "The Art of Effective Stop Order Placement in Trading Markets." You can buy it for only $14.95 by clicking on the "SUBSCRIBE" section of my website at www.jimwyckoff.com . If you are like many traders who feel your market entry and protective stop placement methods need improvement, then my e-book will be a valuable resource to you. I also have an e-book entitled "62 Rules Used by Profitable Futures Traders," which sells for $19.95. These are the best trading investments for under $20.00 you'll ever make! All of my educational products are designed to be easily understood and are in "plain English."