The daily bar chart for the Continuous Commodity Index (CCI) is still in solid price uptrend and just recently hit a fresh 30-plus year high. The CCI is a basket of major raw commodity futures prices rolled into one composite price index. The CCI is also an excellent barometer of the general price trend of the raw commodity market sector. However, recent price action in the CCI has also produced a potentially bearish rising wedge pattern on the daily bar chart. While the CCI is still in an overall bullish technical posture, as both the longer-term and shorter-term trends are decidedly up, the index is also due for a significant downside "correction" in the uptrend soon.

click on the chart to enlarge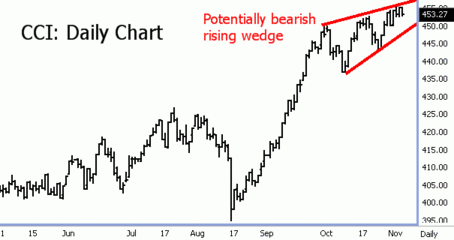 The potentially bearish rising wedge could be the early warning signal for that expected downside correction in an uptrend in the CCI. Any big downside correction in the CCI would also likely coincide with a market top in crude oil futures. Interestingly, just Monday there were at least two noted market watchers that publicly predicted the crude oil market has put in a top. Stay tuned!
Need help on better entry into, and exit from, markets? I have an e-book called "The Art of Effective Stop Order Placement in Trading Markets." You can buy it for only $14.95 by clicking on the "SUBSCRIBE" section of my website at www.jimwyckoff.com . If you are like many traders who feel your market entry and protective stop placement methods need improvement, then my e-book will be a valuable resource to you. I also have an e-book entitled "62 Rules Used by Profitable Futures Traders," which sells for $19.95. These are the best trading investments for under $20.00 you'll ever make! All of my educational products are designed to be easily understood and are in "plain English."