The gold futures market recently backed off sharply from the early-November contract and 27-year high of $848 an ounce. Profit-taking pressure was featured. The past few trading sessions have seen the precious yellow metal in a solid price rebound as the bulls have regained fresh upside technical momentum. The early-November high of $848 is now stiff overhead resistance for the bulls to overcome. However, a push and close above that key price level would be significantly bullish and would open the door to a challenge of the all-time high of $873 an ounce, scored in 1980. On a further corrective pullback there is now solid trend-line support at the $790 area.

click on the chart to enlarge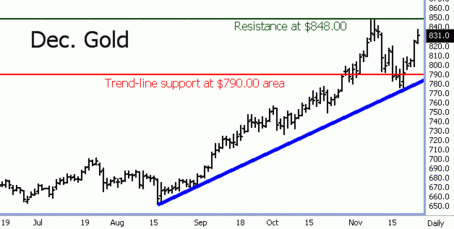 Gold continues to be one of the three key "axis" markets that is influencing many other markets. (The other two markets are crude oil and the value of the U.S. dollar.) Gold traders will continue to closely watch the greenback. Any big rebound in the U.S. dollar would be a bearish development for the gold market. And a further deterioration in the value of the dollar would likely see gold continue to rally and likely hit a new all-time high. Stay tuned!
Need help on better entry into, and exit from, markets? I have an e-book called "The Art of Effective Stop Order Placement in Trading Markets." You can buy it for only $14.95 by clicking on the "SUBSCRIBE" section of my website at www.jimwyckoff.com . If you are like many traders who feel your market entry and protective stop placement methods need improvement, then my e-book will be a valuable resource to you. I also have an e-book entitled "62 Rules Used by Profitable Futures Traders," which sells for $19.95. These are the best trading investments for under $20.00 you'll ever make! All of my educational products are designed to be easily understood and are in "plain English."