After starting out of the gate strong on Wednesday morning (March opened outcry at 1979+25), cocoa prices pulled back to settle unchanged on the day. For this obvious bull I was concerned, especially when looking at the short term picture. I do however continue to hold my long view towards this market and anticipate a favorable push through the psychological barrier of 2000 soon. If that should happen then 2125 would be my next upside target. Another failure at 2000 will cause me to lighten up. A break below 1890 will chase me off the long side.

I especially favor owning options, as I expect volatility to improve premiums. Now I realize that the option market may not allow the ease of entry and exit of positions as liquidity is not as accommodating as one may find in other soft markets, but you ought to respect the local's ability to make markets. Using spreads may tend to help, but for me the attraction to owning options stems from the limited risk proviso, that the buy side of an option contract offers the owner limited risk. Cocoa prices can move and move quickly and for me that provides a unique opportunity for profit.
I'm long and will cover only on closes below 1890.
Support: 1930-1910, 1892, 1848
Resistance: 1980-2000, 2040-2060
As you can see in the charts below the market is losing momentum. That is a concern. Relative strength is also a bit too high for my liking. But I find it is the slope of the lines, including moving averages that keeps me fond of the long side at this juncture.
click on the charts to enlarge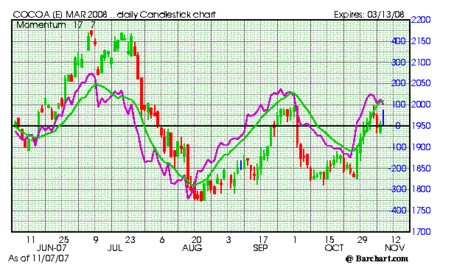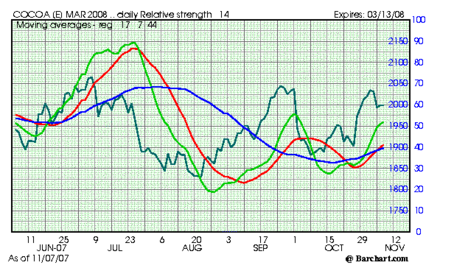 If you have any comments, I'd like to hear them, Jurgens.
Jurgens Bauer

trading floor: (212) 748-3898

cell: (973) 652-4694

Email me at cocoacomments@gmail.com