All this talk about the Dollar being dead is simply over blown. Any investor knows that the greatest trades come from being a contrarian. When the entire investment community says that the Dollar is going down you know it is time to buy. The Swiss Franc has been on a wild rally especially in the last week. A quick look at the chart below and you can clearly see that we rallied to the 2004 highs. We are expecting a macro turn back down from here and are advising readers to buy puts on the Swissy.

click on the chart to enlarge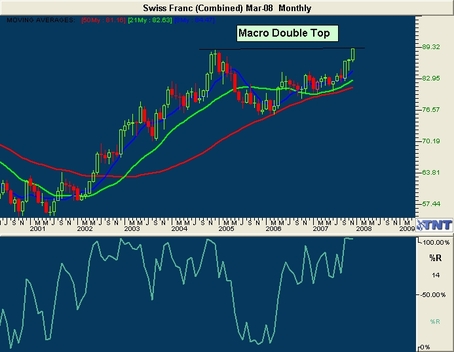 Trade Recommendation:
Buy a March 2008 Swiss Franc 86 put for a max cost and risk of 64 points ($800) or less to open a position.
Market:
March 2007 Swiss Franc (SFH8)
Tick value: 1 point = $12.50
Trade Description: Buy puts
Option Expiration date: 03/07/08
Max risk: approximately $800.00
Max Profit potential: $ unlimited but we are targeting a 200% return
Profit Goal:
Or goal is to catch a move back to 84 by the end of the 1st Quarter 2008. Break even assuming a 64 point fill would be .8536. A 200% gross profit would be realized if the futures price expires at .8408.
Risk Analysis:
Max risk, before commissions and fees, and assuming the above mentioned fill would be $800.00. The full premium paid for the option is lost at expiration if the market expires above 86.
Derek Frey

Odom & Frey Futures & Forex

toll free: 866.636.6378

international 904-247-0232

www.odomandfrey.com