The volatility in the U.S. Treasury markets heated up this week, as new contract highs were notched on Monday, followed by solid losses on Tuesday and Wednesday. However, price action Thursday morning found the bulls making a counter-attack and having success. Price action Thursday morning was scoring a bullish "outside day" up on the daily bar chart for March U.S. Treasury Bond futures–whereby the high was higher and the low was lower than the previous session's high and low, with higher prices on the day Thursday.

click on the chart to enlarge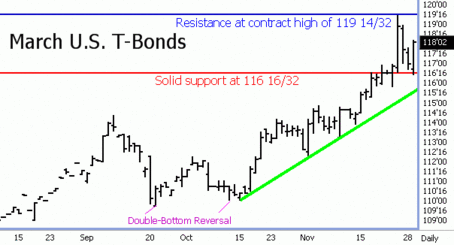 See, too, on the daily bar chart that March T-Bonds remain in a solid uptrend from the double-bottom reversal lows scored in September and October. The bulls still have solid near-term technical momentum on their side, but will need to push and close March futures prices above solid technical resistance at the contract high of 119 14/32 to gain fresh upside technical power to suggest a solid leg up in prices in the near term. Importantly, T-bond market bulls are also enjoying the support of market fundamentals being firmly in their favor. Stay tuned!
Need help on better entry into, and exit from, markets? I have an e-book called "The Art of Effective Stop Order Placement in Trading Markets." You can buy it for only $14.95 by clicking on the "SUBSCRIBE" section of my website at www.jimwyckoff.com . If you are like many traders who feel your market entry and protective stop placement methods need improvement, then my e-book will be a valuable resource to you. I also have an e-book entitled "62 Rules Used by Profitable Futures Traders," which sells for $19.95. These are the best trading investments for under $20.00 you'll ever make! All of my educational products are designed to be easily understood and are in "plain English."