March coffee futures are in a six-week-old uptrend on the daily bar chart and hit a fresh nine-week high of 136.00 cents on Wednesday. Coffee bulls do have upside near-term technical momentum and are looking for more on the upside in the near term. See, too, that the shorter-term moving averages I follow (9- and 18-day) are in a bullish mode as the 9-day is above the 18-day moving average.

click on the chart to enlarge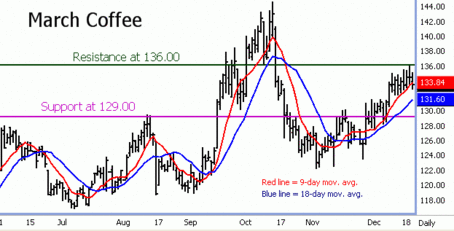 An early warning signal that the uptrend in coffee is losing steam and may be about to end would be if these two moving averages produced a bearish line crossover signal, whereby the 9-day crossed back below the 18-day moving average. See the solid technical support and resistance levels on the chart. Stay tuned!
Need help on better entry into, and exit from, markets? I have an e-book called "The Art of Effective Stop Order Placement in Trading Markets." You can buy it for only $14.95 by clicking on the "SUBSCRIBE" section of my website at www.jimwyckoff.com . If you are like many traders who feel your market entry and protective stop placement methods need improvement, then my e-book will be a valuable resource to you. I also have an e-book entitled "62 Rules Used by Profitable Futures Traders," which sells for $19.95. These are the best trading investments for under $20.00 you'll ever make! All of my educational products are designed to be easily understood and are in "plain English."