January crude oil futures on Thursday hit a fresh six-week low and traded below $86.00 a barrel. The market has taken a haircut to the tune of around $14.00 a barrel from the all-time high above $99.00 scored a couple weeks ago. Serious near-term technical damage has been inflicted to suggest that at least a near-term top is in place. See on the daily bar chart for January crude oil that uptrend lines have been penetrated on the downside. Also, see at the bottom of the chart that the Moving Average Convergence Divergence (MACD) indicator is in a bearish mode as both the thick blue MACD line and the thin red "trigger" line have been trending lower for the past month. Both lines are poised to move into bearish territory below the horizontal "zero" line.

click chart to enlarge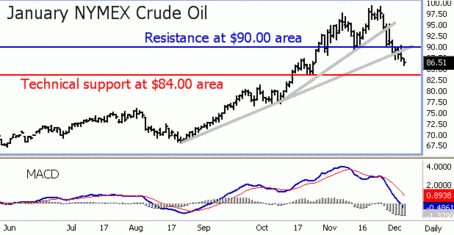 The near-term bearish posture of the crude oil market, which has been a leading "outside market" for many other futures markets, is a warning shot across the bow for all raw commodity market bulls. If crude continues to break down then it's likely that other raw commodity markets will also struggle on the upside. Stay tuned!
Need help on better entry into, and exit from, markets? I have an e-book called "The Art of Effective Stop Order Placement in Trading Markets." You can buy it for only $14.95 by clicking on the "SUBSCRIBE" section of my website at www.jimwyckoff.com . If you are like many traders who feel your market entry and protective stop placement methods need improvement, then my e-book will be a valuable resource to you. I also have an e-book entitled "62 Rules Used by Profitable Futures Traders," which sells for $19.95. These are the best trading investments for under $20.00 you'll ever make! All of my educational products are designed to be easily understood and are in "plain English."