The U.S. dollar index is an excellent barometer for monitoring the overall health of the U.S. dollar as it trades against the other major currencies. The March dollar index futures hit a fresh all-time low last month, and a downtrend line is still in place on the daily bar chart. See on the daily bar chart that just recently the dollar index has produced a short-covering bounce that has seen prices challenge the downtrend line, but so far fail to push above it. A solid push above strong technical trendline resistance that is now located at the 76.00 level, basis the March U.S. dollar index, would provide the bulls with fresh upside technical momentum to begin to suggest that a near-term market bottom is in place.

click on the chart to enlarge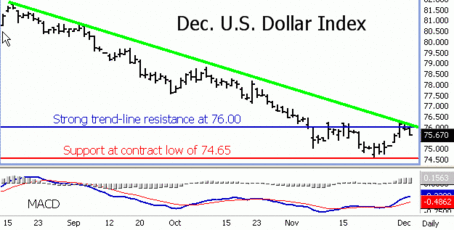 The dollar index bulls are a bit encouraged that the Moving Average Convergence Divergence (MACD) indicator has recently produced a bullish line crossover signal, whereby the thick blue MACD line crossed above the thin red trigger line. Both lines are also trending up. The value of the greenback against the other major currencies continues to be a major "outside" factor for many futures markets. Stay tuned!
Need help on better entry into, and exit from, markets? I have an e-book called "The Art of Effective Stop Order Placement in Trading Markets." You can buy it for only $14.95 by clicking on the "SUBSCRIBE" section of my website at www.jimwyckoff.com . If you are like many traders who feel your market entry and protective stop placement methods need improvement, then my e-book will be a valuable resource to you. I also have an e-book entitled "62 Rules Used by Profitable Futures Traders," which sells for $19.95. These are the best trading investments for under $20.00 you'll ever make! All of my educational products are designed to be easily understood and are in "plain English."