"A community for Traders serious about learning" is the title of Informed Trades and it really lives up to its name. Here's a young website with a fresh new approach, as it's built around Forum software to enable maximum collaboration which it delivers. The site is absolutely packed with valuable information right from basic "How to" content for rank beginners all the way to the most sophisticated market analysis.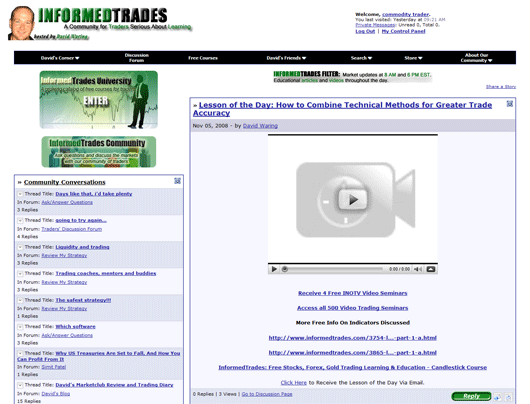 Informed Trades grabs your attention from the first look because of the amount of video content and how recently the home page articles have been posted. The community has grown to over 500 active members and had over 125 guests on-line the last time I was logged in, so it's very vibrant with a good mix of traders and professionals, exchanging ideas and recommendations across the entire breadth of trading. About the only weakness I could find with the site is lack of RSS feeds, for those who prefer to consume information via their email clients and Blog readers but I'm sure those feeds will be added.
There's a real personal touch to Informed Trades, as evidenced when you first arrive at the home page by the smiling photo of the author David Waring at the top of the page, however when you dig a little deeper into the site and read some of the articles related to the mission and the background of its editor you begin to realize that David Waring has a true passion for sharing his knowledge, he's sincere, and that his acumen is very worthy of your joining this burgeoning community, if you're a trader.
Having joined the community at InformedTrades.com myself I would highly recommend this on-line community for anyone interested in, or passionate about on-line investing.