Bonds and notes spent the day paring early morning losses. The Federal Reserve issued $22 billion in 7-year notes for the first time since 1993 and found a decent amount of demand for the security. Additional price support was found as rumors that Chinese officials seemed to imply that buying fixed income assets would still be a large part of their operations despite their shrinking budget.
Perhaps now that the record $94 billion weekly supply issuance has been accounted for, Treasuries will find reason to make their way modestly higher.

Despite the fact that bonds traded underwater throughout the entire session, there were some glimmers of hope for the bulls. The day's economic data, although expected, was grim at best. Durable goods dropped 5.2% and the initial jobless claims jumped to an astronomical 667,000. Adding pressure, new home sales were reported to be a 309,000, well below expectations for 324,000.
Seasonal tendencies for the Treasury market suggest that would could see near term strength. Additionally, major technical support levels held in Thursday's session and Friday's are known for seeing counter-trend trade. Accordingly, we are leaning higher going into tomorrow. Our clients were recommended to buy Five-year note futures near 117'10 and are looking for about 118'06 but will be willing to take an early profit if the opportunity presents itself.
We pointed out that buying would probably come in near 125'06 in the 30-year bond, and that proved to be relatively accurate. From here, we see the potential for the market to rally to 127'10 and possibly even 129'20. The 10-year note could see 121'20 in the coming days.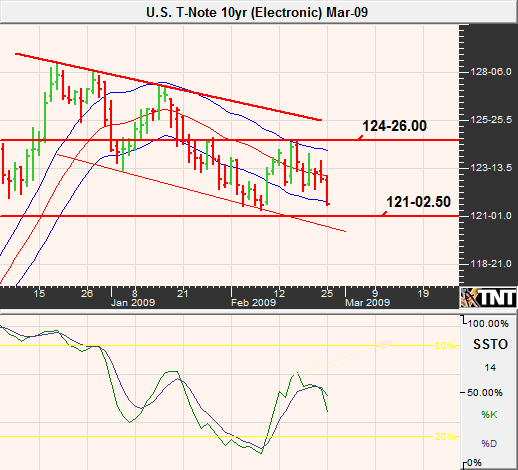 Treasury Bond and Note Option Trading Recommendations
**There is unlimited risk in naked option selling.
Flat
Treasury Bond and Note Futures Trading Recommendations
**There is unlimited risk in trading futures.
February 26 – Our clients were recommended to buy the March 5-year note near 117'10.
Eurodollar Futures Trading Recommendations
**There is unlimited risk in trading futures.
Flat
Carley Garner
Senior Analyst / Commodity Broker
DeCarley Trading
cgarner@DeCarleyTrading.com
1-866-790-TRADE
Local : 702-947-0701
www.CarleyGarnerTrading.com
www.DeCarleyTrading.com
*Due to the volatile nature of the futures markets some information and charts in this report may not be timely.
There is substantial risk of loss in trading futures and options.
Past performance is not indicative of future results. The information and data in this report were obtained from sources considered reliable. Their accuracy or completeness is not guaranteed and the giving of the same is not to be deemed as an offer or solicitation on our part with respect to the sale or purchase of any securities or commodities. Any decision to purchase or sell as a result of the opinions expressed in this report will be the full responsibility of the person authorizing such transaction.