A lack of demand for sovereign debt and a poor showing in domestic auctions left Treasury futures vulnerable. The Fed issued $34 billion in 5-year notes and are expected to issue a boatload ($24 billion) of the new 7-year note issues. As we have also pointed out, corporations have been scrambling to sell fixed income products to raise cash for operations. The result is an overwhelming amount of market supply.
After months of speculation, the Fed finally began purchasing long dated Treasuries. However, it almost seems like old news at this point and traders are wondering whether the Fed's bark was much larger than their bite. Traders hardly even blinked at the $7.5 billion in notes purchased by the U.S. government today.

Recent economic data has shown moderate signs of life, and today's releases weren't an exception. Durable goods were reported to be up 3.4% despite expectations for a draw of over 2%. New home sales were also on the rise, beating estimates as well as last month's figures.
We are beginning to seriously question our expectations in the Treasury market. We have been calling for a continuation in the Treasury rally but the market has done nothing but prove us wrong. Today's close below 128 in the 30-year bond suggests that the bias remains downward but I wouldn't put my money on it. The next major area of support is 126; if stocks turn over as we expect, the long bond should find some buying interest at such levels.
The note has managed to squeak out a close above our "make or break" level near 123 but it seems like we could even see 122 before buyers are interested once again.
We would like to see a move in the June Eurodollar near 98.70 at which point we would prefer the short side.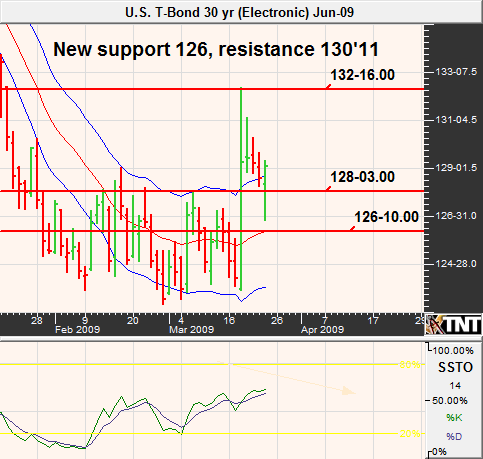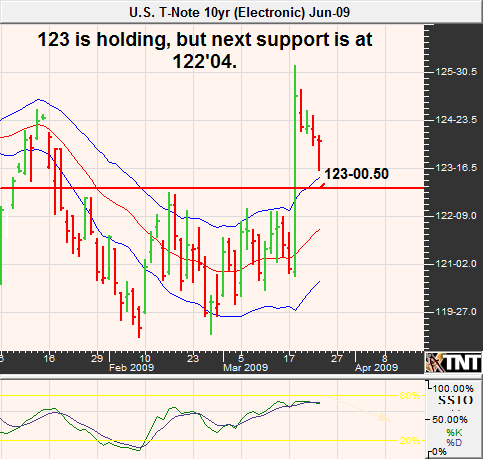 Treasury Bond and Note Option Trading Recommendations
**There is unlimited risk in naked option selling.
Flat
Treasury Bond and Note Futures Trading Recommendations
**There is unlimited risk in trading futures.
Flat
Eurodollar Futures Trading Recommendations
**There is unlimited risk in trading futures.
Flat
Carley Garner
Senior Analyst / Commodity Broker
DeCarley Trading
cgarner@DeCarleyTrading.com
1-866-790-TRADE
Local : 702-947-0701
www.CarleyGarnerTrading.com
www.DeCarleyTrading.com
*Due to the volatile nature of the futures markets some information and charts in this report may not be timely.
There is substantial risk of loss in trading futures and options.
Past performance is not indicative of future results. The information and data in this report were obtained from sources considered reliable. Their accuracy or completeness is not guaranteed and the giving of the same is not to be deemed as an offer or solicitation on our part with respect to the sale or purchase of any securities or commodities. Any decision to purchase or sell as a result of the opinions expressed in this report will be the full responsibility of the person authorizing such transaction.