The Fed spent the day buying agency debt and Treasuries while futures traders bought bonds and notes. Along with $5 billion in agency debt, the Fed purchases over $7 billion in longer dated Treasury securities. Some are also attributing the day's strength to trepidation over the upcoming banking earnings. A poor showing could mean that safe haven buying will come back into full swing.
A void in economic news and the long holiday weekend left trading volume painfully light. As the day session was coming to a close, the ZB had only traded 78,000 contracts on the day. This is about half of what it might on a relatively light day.
Treasury traders seem to have forgotten about the currency markets, which are suggesting that the U.S. dollar could trade back to 83 in the near future. If this is the case, there should be some underlying pressure on bonds and notes.

Commitment of traders data reveals that open interest in the long bond has dropped off considerably. However, it also tells the story of a speculative community that remains net short. This isn't a surprise as this has consistently been the case for years. What is a significant is that it appears as though many of the small speculators, and some of the large, have simply "given up" on higher interest rates or maybe the bond market altogether. This could be a sign that there is some room to move on the downside. It may sound cynical, but markets usually do the opposite of what most expect. Also, they have a tendency to wear traders down before making a move.
Despite today's bounce, I continue to lean lower. However, the T-bond must hold resistance at 128'03 and the note must continue to close below 123'10.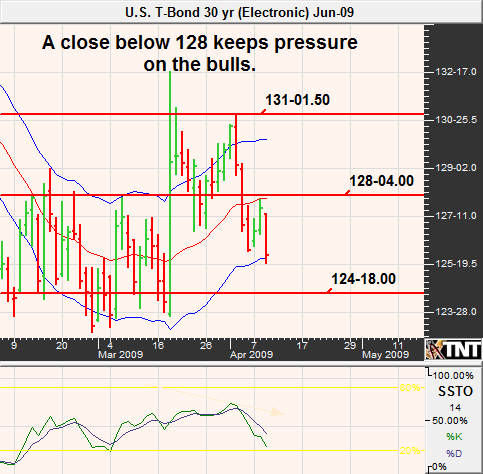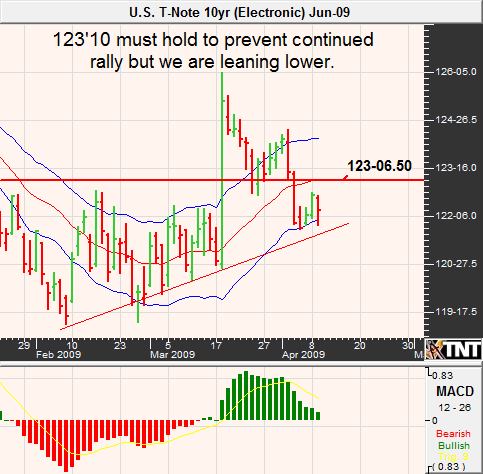 Treasury Bond and Note Option Trading Recommendations
**There is unlimited risk in naked option selling.
Flat
Treasury Bond and Note Futures Trading Recommendations
**There is unlimited risk in trading futures.
Flat
Eurodollar Futures Trading Recommendations
**There is unlimited risk in trading futures.
Flat
Carley Garner
Senior Analyst / Commodity Broker
DeCarley Trading
cgarner@DeCarleyTrading.com
1-866-790-TRADE
Local : 702-947-0701
www.CarleyGarnerTrading.com
www.DeCarleyTrading.com
*Due to the volatile nature of the futures markets some information and charts in this report may not be timely.
There is substantial risk of loss in trading futures and options.
Past performance is not indicative of future results. The information and data in this report were obtained from sources considered reliable. Their accuracy or completeness is not guaranteed and the giving of the same is not to be deemed as an offer or solicitation on our part with respect to the sale or purchase of any securities or commodities. Any decision to purchase or sell as a result of the opinions expressed in this report will be the full responsibility of the person authorizing such transaction.