Strong demand in recent Treasury auctions and lower stocks have kept a floor under Treasuries but it has been the softer economic data that seems to be forcing shorts out of the market.
The Treasury issued $41 billion in five -year notes this afternoon at a rate of 2.388% and a solid bid to cover at 2.63. Although the auction went off well, the market softened up a bit in post-auction trade. Apparently, bond traders have acquired the stock trader's tendency to allow good news to disappoint.
Tomorrow the Treasury will auction another $31 billion in 7-year notes and this event is expected to get more attention, and reaction, than the 2 and 5-year instruments issued thus far this week. Last week, interest rate traders were reluctant to believe that the market would absorb such massive supply. However, the bottom line is that even at record levels, buyers are still showing up to loan the government money for very little in return.
Durable goods orders were up .5%, about half of consensus estimates but much better than the decline of 2.6% seen last month. New home sales were also a disappointment; the headline number was reported at 402,000 but most were looking for a number in the 440,000 neighborhood.
As predicted a few weeks ago, the financial markets are experiencing a correction across the board. Commodities, currencies, stocks and now (finally) bonds are along for the ride. We see resistance in the 30-year bond in the mid-120's and will become short-term neutral at this level. However, I still feel like a retest of last month's highs could be around the corner if the other markets continue to follow through. Our resistance in the 10-year note traders was about 118'15 coming in, but it seems like 119 is a probable target in the next day or two.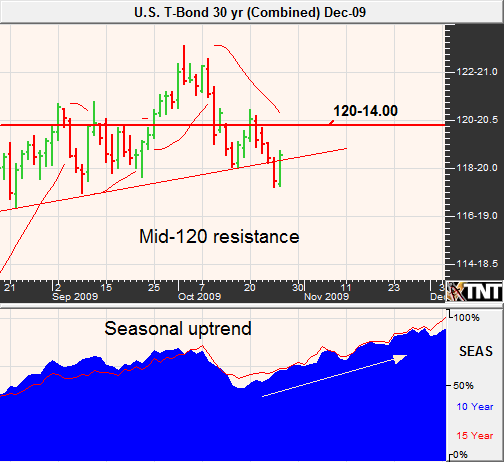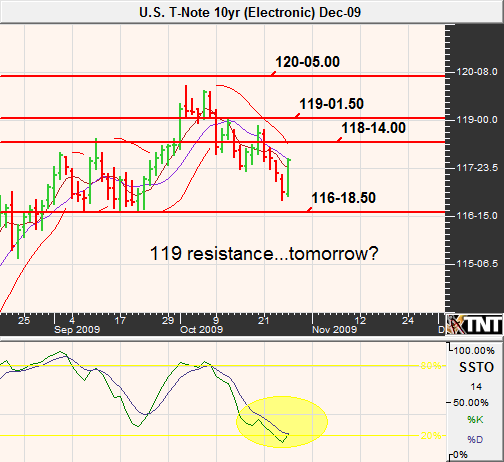 Treasury Bond and Note Option Trading Recommendations
**There is unlimited risk in naked option selling.
October 15 – Yesterday afternoon, our clients were advised to sell puts against a possible Thursday plunge. We recommended to sell the December T-bond 112 and 113 puts for 20 and 26 ticks respectively, or about $312 and $406 before commissions and fees.
October 20 – Our clients were recommended to exit the 112 puts near 6 ticks and the 113 puts near 8. Fills on the 113 puts were coming in at 9, we recommended to make the 6 tick buyback on the 112's GTC. Those that still have a short 113 put open, we recommend a GTC order to buy it back at 9 or 10.
· These orders have all been filled, you should be out of this trade.
Treasury Bond and Note Futures Trading Recommendations
**There is unlimited risk in trading futures.
Flat
Carley Garner
Senior Analyst / Commodity Broker
DeCarley Trading
cgarner@DeCarleyTrading.com
1-866-790-TRADE
Local : 702-947-0701
www.CarleyGarnerTrading.com
www.DeCarleyTrading.com
*Due to the volatile nature of the futures markets some information and charts in this report may not be timely.
There is substantial risk of loss in trading futures and options.
Past performance is not indicative of future results. The information and data in this report were obtained from sources considered reliable. Their accuracy or completeness is not guaranteed and the giving of the same is not to be deemed as an offer or solicitation on our part with respect to the sale or purchase of any securities or commodities. Any decision to purchase or sell as a result of the opinions expressed in this report will be the full responsibility of the person authorizing such transaction.