Gold Settles $25.80 Lower ($1383.20)….
Big down day for the gold and silver markets as both markets experience key technical reversals. One day after Gold made another all-time high and Silver made a new 30 year high the precious markets lost momentum and triggered a two day mammoth sell-off. Rumors of the U.S tax extension package not having enough votes to pass helped to extend yesterday's negative settlement. Also the continued concern that The Peoples Bank of China will once again raise interest rates has traders on edge and eager to take profits when the opportunity presents itself…
It was reported that IMF boss Dominique Strauss-Kahn strongly criticized the Euro regions financial ministers for the way they're dealing with the Euro union's debt crisis and was quoted as saying "The Euro zone has to provide a
comprehensive solution to this problem" and added "the piece mail approach, one country after another, is not a good one."
The continued weakness of the Euro is fueling the U.S Dollar's rally. In a normal setting Gold and the U.S Dollar trade inversely….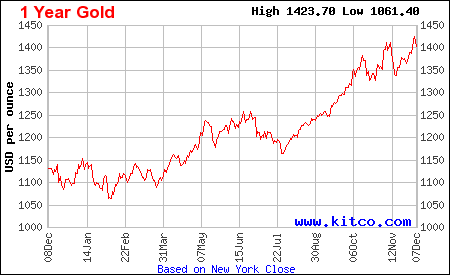 Thursday 12/09 Reports:
EXPORT SALES……………………7:30 AM (CST)
INITIAL JOBLESS CLAIMS……..:.7:30 AM (CST)
WHOLESALE TRADE…………….7:30 AM (CST)
GOLD FEBRUARY
HIGH…..$1405.00 LOW….$1383.20 RANGE…$23.50
SILVER MARCH
HIGH….$$29.29 LOW….$28.01 RANGE…$1.28
MY SWING NUMBERS 12/09 GOLD / FEBRUARY
RESISTANCE # 2……..$1414.00
RESISTANCE # 1……..$1398.00
PIVOT …………………$1390.00
SUPPORT # 1………….$1375.00
SUPPORT # 2………….$1366.00
MY SWING NUMBERS 12/09 SILVER / MARCH
RESISTANCE # 2…….$29.79
RESISTANCE # 1…….$29.01
PIVOT ………………….$28.51
SUPPORT # 1…………$27.72
SUPPORT # 2…………$27.23
Mike Daly / Gold Specialist
PFG BEST
mdaly@pfgbest.com
877-294-4669
312-563-8029
There is a substantial risk of loss in trading futures and
options. Past performance is not indicative of future results. The
information and data in this report were obtained from sources
considered reliable. Their accuracy or completeness is not guaranteed
and the giving of the same is not to be deemed as an offer or
solicitation on our part with respect to the sale or purchase of any
securities or commodities. PFGBEST, its officers and directors may in
the normal course of business have positions, which may or may not agree
with the opinions expressed in this report. Any decision to purchase or
sell as a result of the opinions expressed in this report will be the
full responsibility of the person authorizing such transaction.