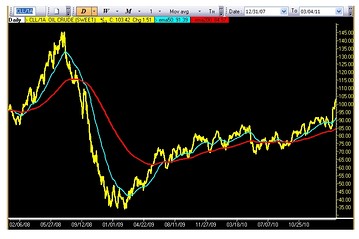 One week down in March and commodities appear to be marching to a different beat. Crude oil will end near its session high and at a fresh 2011 high. Bulls are in control but be cautious as $3-5 swings are becoming common place. We've seen a $15 appreciation in the last two weeks with virtually no correction so again be careful. Natural gas prices are devalued and in our opinion a buy…but once again we are catching a falling dagger so do not establish a large position just yet.
The indices are still trying to pick a direction wandering in a trading range now for the last two weeks. Either direction would not surprise me so stay on top of your positions whether they are long or short. A close above 1340 in the S&P likely means a test of 1400 while a settlement below 1295 would likely signal 1200. The dollar traded down on the week but we're thinking a bounce is due into the coming weeks…trade accordingly.
We have advised livestock traders to move to the sidelines on a rumor of mad cow disease…wait for new recommendations next week. Silver and gold surged to new highs…we have advised clients to lighten up from lower levels and yes we left a ton of money on table. This has been a frustrating sector but it really feels like a bubble to some extent to my clients and I. We advised clients to exit their sugar longs in early dealings at a very minimal loss and fortunately took that money short cocoa before the 2% break. We are looking for cocoa prices to back off 5% in the coming weeks…trade accordingly.
Though the trades are far from profitable at these levels we still like the idea of bearish options exposure in coffee and cotton as well. Longs in wheat are cooperating but we could see another 15-20 cents lower in corn so hold off on fresh purchases. As for soybeans some clients remain in their July/November futures spreads. We re-established NOB spreads for some clients at slightly better levels and sold into the rally in Euro-dollars today for aggressive clients.
Risk disclosure: The risk of loss in trading commodity futures and options can be substantial. Past performance is no guarantee of future trading results.