Copper prices have been establishing a base in recent weeks rocketing higher today, as of this post higher by nearly 6% as futures approach three week highs and previous resistance. July futures are 25 cents of their lows from Wednesday which represents ($250*25) or an appreciation of $6,250. Being the margins is only $3,410 that is a monster move in just a few days.
I've repeatedly said that I rarely trade copper for clients but I always pay attention. Copper is nicknamed "Dr Copper" as one can get a barometer of the overall economy based on its price action. Copper is versatile metal used as a component in so much building traders can get a clearer picture of demand. Goldilocks is back and while I do not fully agree the market is always correct so I am adapting and cautiously long on most of my interests for clients.
Again this is not to be construed as a bullish copper recommendation but rather look for long entries in other commodities as it rare that we see copper move up/down aggressively and see the other commodity markets trade in an inverse direction…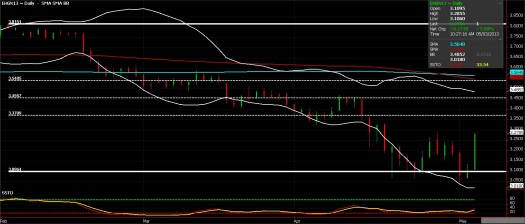 Copper was up prior to the jobs number but is extending its rally after a better than expected reading (adding 165k jobs and unemployment dropping to 7.5%) on the US labor market boosting the demand outlook for this industrial metal. The $3.05/3.10 support level could serve as a significant bottom as prices track higher in the coming weeks.
25-30 cents above current trade the 100 day and 200 day MAs come in just above the 61.8% Fibonacci level I would be eyeballing that level on bullish trade expecting to see mild resistance at the two lower Fibonacci levels. If copper continues to move higher that would lend to the theory that equities will grind higher and Ags, metals, softs and energies could appreciate in the weeks to come. As for the flow of money based on the initial reaction today and rudimentary technical analysis Treasuries are headed lower. I will save that analysis for another day…
As always, I'm here to discuss specifics and give guidance. Give me a call…
To discuss in more detail this chart or any other you can reach me at: mbradbard@rcmam.com or 954-929-9997
Risk Disclaimer: The opinions contained herein are for general information only and are not intended to provide specific investment advice or recommendations and are not tailored to any specific's investor's needs or investment goals. You should fully understand the risks associated with trading futures, options and retail off-exchange foreign currency transactions ("Forex") before making any trades. Trading futures, options, and Forex involves substantial risk of loss and is not suitable for all investors. You should carefully consider whether trading is suitable for you in light of your circumstances, knowledge, and financial resources. You may lose all or more of your initial investment. Opinions, market data, and recommendations are subject to change without notice. Past performance is not necessarily indicative of future results.