RBOB (gasoline) futures have come down a full 53 cents/gallon, or 33%, from the most recent February 19th peak. Clearly a contrarian play, I'm now willing to suggest that aggressive traders can wade into bullish plays.
Recent selling pressure can be attributed to crude oil stockpiles, which are approaching 400.0M barrels. This puts oil inventories at their highest level since the EIA began reporting weekly oil stocks in 1982. While this fundamental data is far from bullish, I suspect much of this has already been priced in. Any move higher in Crude should bring RBOB up with it. As a general rule of thumb, RBOB tends to move about 3-4 cents for every $1 change in Crude. That has been my observation; however, it's just a rule of thumb and past performance is not indicative of future results.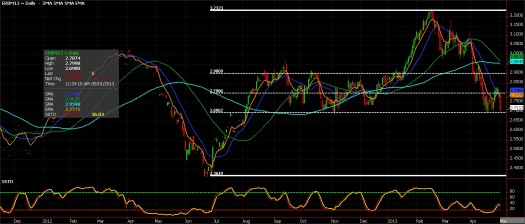 The 61.8% Fibonacci retracement level, shown below as the bottom-most white jagged line, is current support keeping June futures above $2.70 for now. A stop loss order below this level is a must. I cannot stress this enough, as we would likely see another 15-20 of selling if this level is penetrated.
Just as I highlighted the 61.8% Fibonacci level as support, I would also use the higher Fibonacci levels as profit objectives, assuming we hold at $2.70 and start tracking higher. A move back to the 50% Fib level is a dime and getting back to the 38.2% level, which may take a few weeks to play out, gives twenty cents overhead from current prices.
RBOB is a 42,000 gallon contract which values the contract at $114,000 at current prices. Every 1 cent move in the futures equates to a gain/loss of $420 per contract. Trade accordingly. If you're not willing to buy futures outright, with a tight stop, I would also look to trade the RBOB/heating oil spread, buying RBOB and selling heating oil 1:1.
As always, I'm here to discuss specifics and give guidance. Give me a call…
To discuss in more detail this chart or any other you can reach me at: mbradbard@rcmam.com or 954-929-9997
Risk Disclaimer: The opinions contained herein are for general information only and are not intended to provide specific investment advice or recommendations and are not tailored to any specific's investor's needs or investment goals. You should fully understand the risks associated with trading futures, options and retail off-exchange foreign currency transactions ("Forex") before making any trades. Trading futures, options, and Forex involves substantial risk of loss and is not suitable for all investors. You should carefully consider whether trading is suitable for you in light of your circumstances, knowledge, and financial resources. You may lose all or more of your initial investment. Opinions, market data, and recommendations are subject to change without notice. Past performance is not necessarily indicative of future results.
Related articles