Let's check the scorecard. I penned a report on 3/27, just two months ago, titled "Interest Rates – A Ticking time bomb." In this, I made the bold claim that a bearish play on the Eurodollar has the potential to be the biggest trade of my career.
This is not a quick "in and out" trade. I'm urging clients to stay with this theme for the next several years. In case you missed my report: "Interest Rates – A Ticking time bomb."
…the trade is essentially a bet on interest rates rising by late 2015 /early 2016. I'm recommending short futures in the 2015 and 2016 Eurodollar contracts. And of course, I have options plays to recommend as well.
Now back to recent market action… I'm not playing Monday morning quarterback here. I've been forecasting this move for months… and now, it appears to be under way. Look to the chart below of December 15' futures.
On 3/27, when I published the Eurodollar report, futures closed at 99.11. For five weeks the trade moved against clients, hitting a contract high at 99.29 ($450 of heat), before rolling over. Today's trade, as of this post, is 98.91… for an open gain of $500. (Every tic represents a $25 gain/loss per futures contract). I've identified what I see as key pivot points below (red horizontals). Even an untrained eye should be able to see… this is just the beginning – "Round 1" – with further weakness to come in my opinion.
So what changed? Because interest rates have not…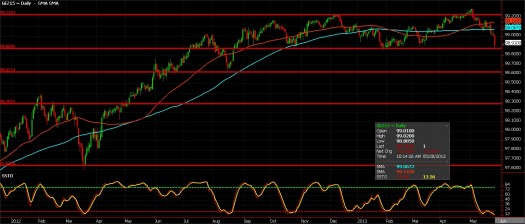 Last week, Bernanke made comments to the effect that interest rates have the potential to increase in the quarters to come. Perception alone – the idea that we could see rates recover from pinned-to-the-mat levels over the last 3.5 years – seems enough to move Eurodollar futures, an extremely rate-sensitive vehicle.
Also, the unemployment rate domestically seems to be under control, for now, and sentiment is becoming increasingly friendlier on signs of an economic recovery… courtesy of a real estate revival and a hefty rally in the equity markets. Inflation expectations, of course, outside of food and energy, remain subdued by the Fed's measures… though my grocery bill, utility bill and gas station visits still have me grimacing.
The game has changed. And if the Federal Reserve takes its foot off the accelerator I think investors would be wise to gain bearish exposure in long-dated Eurodollar contracts. As I've said before, and as I'll say again, this has the real potential to be a watershed trade, in my opinion.
As always, I'm here to discuss specifics and give guidance. Give me a call…
To discuss in more detail this chart or any other you can reach me at: mbradbard@rcmam.com or 954-929-9997
Risk Disclaimer: The opinions contained herein are for general information only and are not intended to provide specific investment advice or recommendations and are not tailored to any specific's investor's needs or investment goals. You should fully understand the risks associated with trading futures, options and retail off-exchange foreign currency transactions ("Forex") before making any trades. Trading futures, options, and Forex involves substantial risk of loss and is not suitable for all investors. You should carefully consider whether trading is suitable for you in light of your circumstances, knowledge, and financial resources. You may lose all or more of your initial investment. Opinions, market data, and recommendations are subject to change without notice. Past performance is not necessarily indicative of future results.