Let me be clear Japan and the US are two distinctly different economies but can we draw anything from the 18% assault on the Nikkei in the last two weeks? Will trade south in Stock indexes in the East and across the pond tell investors anything about a correction domestically to come? We are comparing to some extent apples to oranges but both the Nikkei and S&P in my opinion get way ahead of themselves and appreciated for similar reasons …unabated stimulus.
Nikkei: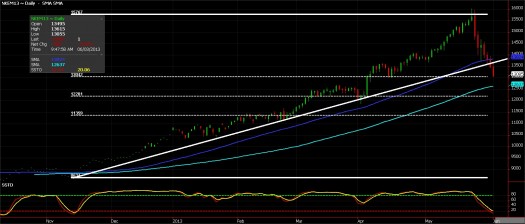 S&P: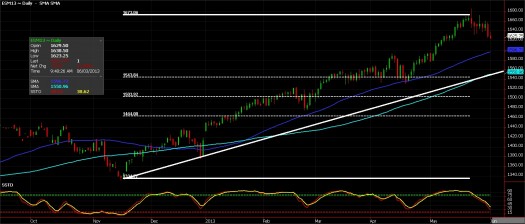 US markets were relatively flat when US Manufacturing PMI contracts came out at their weakest levels since June 2009 today…could this be the catalyst or will it be this Friday's NFP #? Several comments indicate a flattening or softening in demand due to sluggish economy, both domestically and globally. My take is we get the 7-10% correction in stocks and we get a bounce in Treasuries. So moving forward investors may be able to buy stocks for sale in the coming weeks and fade the rally in Treasuries. Select clients are in NOB spreads playing the appreciation in the debt market and are very eager to re-establish bearish plays in 16' Eurodollars in the not too distant future.
As for a trade in the S&P let's assume the first stop on this correction is the 50 day MA (dark blue line) just under 1600. A 38.2% Fibonacci retracement, 100 day MA (light blue line) both come in around the same level of a trend line that has supported since November…let's make that our second objective. Off the record highs made 5/22 this would amount to an 8.3% deprecation…consider yourself warned. Constructing the trade I like bearish option trades in August and September contracts in the ES.
As always, I'm here to discuss specifics and give guidance. Give me a call…
Risk Disclaimer: The opinions contained herein are for general information only and are not intended to provide specific investment advice or recommendations and are not tailored to any specific's investor's needs or investment goals. You should fully understand the risks associated with trading futures, options and retail off-exchange foreign currency transactions ("Forex") before making any trades. Trading futures, options, and Forex involves substantial risk of loss and is not suitable for all investors. You should carefully consider whether trading is suitable for you in light of your circumstances, knowledge, and financial resources. You may lose all or more of your initial investment. Opinions, market data, and recommendations are subject to change without notice. Past performance is not necessarily indicative of future results.
Related articles