Media pundits typically refer to copper as "Dr. Copper" as its price action is used to deduce the overall health of the economy but in the age of equality…it is 2013 today let's refer to copper as "Nurse Copper." Prices are down 10% from levels seen 6/5 when we started to roll over but two key developments happened overnight trade under $3 was rejected (I think we bounce from here) and in China their stock exchange rallied from being down 5% to close flat as a "V" shaped recovery may be upon us. It is too early to tell if these two markets will recover in the coming weeks but as I gaze into my crystal ball those are my two prognostications. As for copper at a minimum I expect to see a trade back to the 38.2% Fibonacci level…as seen on chart below back to $3.29.
This is not meant to be construed as a buy recommendation on Chinese securities or to pile into Phelps Dodge (PD) or longs in copper futures but more so to paint a picture that it is not the end of the world…yes even if Central banks take their foot of the gas pedal global economies will be all right. I expect a rebound in a number of risk assets in the immediate future.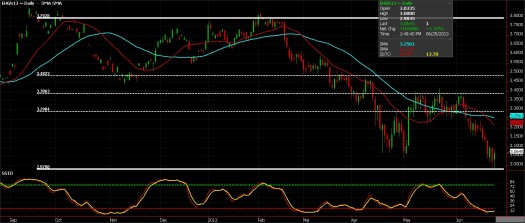 As always when I write about copper and the US dollar it is more so as a guide to help navigate trade with other commodity markets that exhibit a relationship. As long as copper holds the recent lows and starts tracking higher I would expect there to be an appetite for risk to return to the market. That being said:
Domestic stock indices appear to be finding support at their 100 day MA.
Crude oil and the products are a buy in my eyes.
The commodity currencies (Kiwi, Aussie, and Loonie) are beaten down too much.
Select softs and Ags are a buy ahead of Fridays USDA report.
For exact strategy please do not hesitate to contact me. As always, I'm here to discuss specifics and give guidance. Shoot me an email…Give me a call…you can reach me at: mbradbard@rcmam.com or 954-929-9997
Risk Disclaimer: This information is not to be construed as an offer to sell or a solicitation or an offer to buy the commodities and/ or financial products herein named. The factual information of this report has been obtained from sources believed to be reliable, but is not necessarily all-inclusive and is not guaranteed to be accurate. You should fully understand the risks associated with trading futures, options and retail off-exchange foreign currency transactions ("Forex") before making any trades. Trading futures, options, and Forex involves substantial risk of loss and is not suitable for all investors. You should carefully consider whether trading is suitable for you in light of your circumstances, knowledge, and financial resources. You may lose all or more than your initial investment. Opinions, market data, and recommendations are subject to change without notice. Past performance is not necessarily indicative of future results. This report contains research as defined in applicable CFTC regulations. Both RCM Asset Management and the research analyst may have positions in the financial products discussed.