In the last 9 months one could have born a child and within that same time frame silver prices are lower by 44%. Bears have been in the driver's seat with a few exceptions but is that about to change? Can you say R-E-V-E-R-S-A-L? At 8pm last evening est. September silver futures were trading at $18.17/ounce and as of this post futures are trading at $19.51…a 7.4% reversal.
I am operating under the influence if this is not the ultimate low it will at least deliver a tradable bounce. Back ratios spreads in September that were advised by yours truly have worked out very nicely to date and those brave enough to be long futures congratulations as we may not look back from here. My short-term target is the 20 day MA (red line) and I would not rule out a 38.2% Fibonacci retracement in the coming months lifting the September contract back near $25/ounce.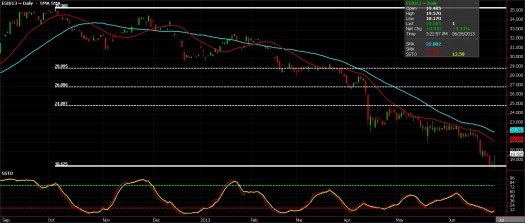 The train is just leaving the station so those not on board yet contact me for various bullish trade ideas in either September or December in either futures or options depending on your account size and risk tolerance.
To see me quoted in the Wall Street Journal today speaking to another commodity market …cocoa…click on link below.
Cocoa Wall Street Journal 6-28-13
As always, I'm here to discuss specifics and give guidance. Shoot me an email…Give me a call…you can reach me at: mbradbard@rcmam.com or 954-929-9997
Risk Disclaimer: This information is not to be construed as an offer to sell or a solicitation or an offer to buy the commodities and/ or financial products herein named. The factual information of this report has been obtained from sources believed to be reliable, but is not necessarily all-inclusive and is not guaranteed to be accurate. You should fully understand the risks associated with trading futures, options and retail off-exchange foreign currency transactions ("Forex") before making any trades. Trading futures, options, and Forex involves substantial risk of loss and is not suitable for all investors. You should carefully consider whether trading is suitable for you in light of your circumstances, knowledge, and financial resources. You may lose all or more than your initial investment. Opinions, market data, and recommendations are subject to change without notice. Past performance is not necessarily indicative of future results. This report contains research as defined in applicable CFTC regulations. Both RCM Asset Management and the research analyst may have positions in the financial products discussed.