Could a breach of the 50 day MA (dark blue line) at 1610 today be a game changer? As seen on the chart below that level has acted as support an all attempts in recent weeks. I am a believer that a settlement under this pivot point confirms an interim top and we are preceded by a deeper correction. My next objective in September futures would be the 100 day MA (light blue line) at 1565. The run up in the equity markets over the last 7 months has painted a false picture that circumstances are much improved and while I do not intend to be a Debbie downer numerous headwinds still exist. If the wind is taken from the bulls sails I expect to see that spill over into weakness in outside markets, i.e. Treasuries and commodities. Baby out with the bath water scenario.
Traders domestically and abroad are hitting the sell button and we see much more red than green on the screen. This is not going to be a 1-2 day event…expect to feel some pain and irrational moves in the coming weeks. That being said keep your size small, trade with stops and be willing to hedge futures with options and perhaps most importantly let go of losers. Al these undertakings are a part of trading.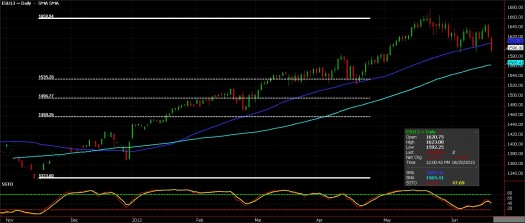 If one thing is taken away from this piece HEDGE a large stock portfolio as a 7-10% correction can put now profitable positions under water. Imagine using bearish positioning in ES futures or options making money on a correction and then taking the proceeds to average down on your stock holdings…imagine that.
On a separate note the fact that Morgan Stanley (MS) is cutting 10% of its commodity staff makes me very encouraged that we are in for very good times in the commodity markets in the coming years. Using the logic that far less revenue is available and secular headwinds is mumbo jumbo to me. The reduction to me is more about Dodd Frank and new regulations but what do I know? Use the swoon that will likely take place in the coming weeks to set up longer term buys at lower levels…make a trade plan and execute.
As always, I'm here to discuss specifics and give guidance. Shoot me an email…Give me a call… you can reach me at: mbradbard@rcmam.com or 954-929-9997