It was a shortened week with the holiday so volumes has been lackluster but to take nothing away from this move as Crude has taken out the $100/barrel level and currently trading at 13 month highs just above $101. As one can see in the chart below futures have traded out of the $10-12 trading range (green bands) that had contained prices for the last year. The title signifies I have a crystal ball which I do not claim but gazing into the future I think this could be the headline in the coming weeks. My thought is Crude will falter…turn south and trade back into the trading range that had constrained prices until today.
$hit is hitting the fan in Egypt and if it were to spread throughout the Middle East that would be extremely problematic but at this juncture I do not see that as a likely scenario. On top of those jitters the EIA report today had a surprising monster draw in inventories reported that the US inventories fell 10.3 M barrels to 383.8 M barrels for the week ending 6/28. It was the biggest weekly drop in stockpiles since the week ending 12/28. The drop came as refineries ramp up production for gasoline for the summer driving season so ok I get a decline on the switchover but this seems far too inefficient. Analysts leading into the number were looking for a 2.3 M barrel draw according to the Dow Jones Newswire.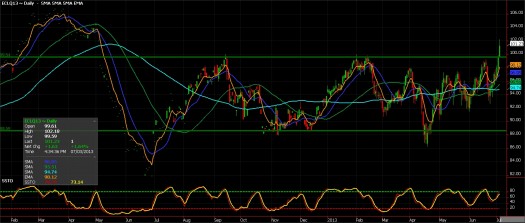 As for the trade do not jump in front of this freight train by blindly selling into this…possible ways to gain bearish exposure:
Bear put spreads
Short WTI or Nymex Crude and buy Brent 1:1. Current trade is at its widest margin in over 2 years.
Selling December 2013 Crude calls and buying 2014 Crude calls…14' happens to hold an $8 premium to 13'…this makes no sense. This is courtesy of one on my colleagues; Kevin Davitt who has forgotten more than I know about energy trading. I talk to him before making most of my energy trading decisions for clients so should you?
You can reach him at: kdavitt@rcmam.com or 312-870-1520
I feel that I need to mention that whenever trading oil embrace the RISK as volatility is heightened especially in the current environment so be prepared for sizable moves = quick losses & quick gains.
To see Bradbard quoted in a piece put out on 7/2/13 commenting on coffee click on link below:
As always, I'm here to discuss specifics and give guidance. Shoot me an email…Give me a call…you can reach me at: mbradbard@rcmam.com or 954-929-9997
Risk Disclaimer: This information is not to be construed as an offer to sell or a solicitation or an offer to buy the commodities and/ or financial products herein named. The factual information of this report has been obtained from sources believed to be reliable, but is not necessarily all-inclusive and is not guaranteed to be accurate. You should fully understand the risks associated with trading futures, options and retail off-exchange foreign currency transactions ("Forex") before making any trades. Trading futures, options, and Forex involves substantial risk of loss and is not suitable for all investors. You should carefully consider whether trading is suitable for you in light of your circumstances, knowledge, and financial resources. You may lose all or more than your initial investment. Opinions, market data, and recommendations are subject to change without notice. Past performance is not necessarily indicative of future results. This report contains research as defined in applicable CFTC regulations. Both RCM Asset Management and the research analyst may have positions in the financial products discussed.