Since bottoming on 6/28 at $1179.40 August gold futures have advanced 12.5% approximately $150/ounce. As of this post a decisive move through $1300 higher by 2.88% today. One can see on the chart below the horizontal line just below $1300 that had served as resistance now shall serve as support. In three short weeks future have shifted from oversold to overbought so do not expect this pace to continue. The next test is seen at the 50 day MA (light blue line) about $5 above current trade.
The train has left the station but for fresh entries to jump on after this vicious move is ill advised. Those that are already on board should stay the course using the Fibonacci levels as their objectives. Buying dips and risking to the 20 day MA (red line) near $1260 is my advice for fresh entries. One can see that the down sloping trend line on the chart comes in at about the same level as a 50% Fibonacci retracement so at that point I would look to lighten up or tighten stops.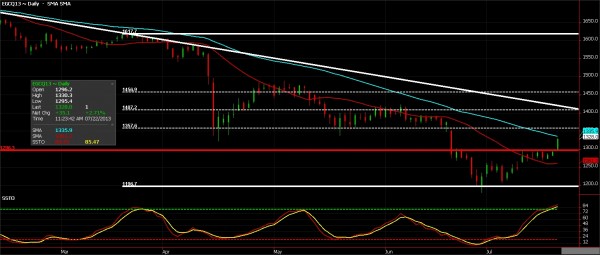 This does not appear to just be a bounce that retail investors are taking advantage of. Support is seen from Institutional buyers as well that will likely thwart much more immediate downside. You see the classic signs of fund buying…increasing volumes, higher open interest, higher MAs. In addition higher lease and lending in Europe is resulting in backwardation, and after the price swoon that dragged prices under $1200 selling is becoming less prevalent. Even looking at the recent COT report gold bears are taking money off the table. Though I think we could get one more washout before we resume a significant move higher…remember 4/12 & 4/15.
Digesting everything I just threw at you trade lightly and do not get married to the position. When establishing a position have a price target if you are correct and a punch out number to take a loss. Do not rule out $50-75 moves in a 24-48 hour period in either direction. A final push or just the beginning?
Risk Disclaimer: This information is not to be construed as an offer to sell or a solicitation or an offer to buy the commodities and/ or financial products herein named. The factual information of this report has been obtained from sources believed to be reliable, but is not necessarily all-inclusive and is not guaranteed to be accurate. You should fully understand the risks associated with trading futures, options and retail off-exchange foreign currency transactions ("Forex") before making any trades. Trading futures, options, and Forex involves substantial risk of loss and is not suitable for all investors. You should carefully consider whether trading is suitable for you in light of your circumstances, knowledge, and financial resources. You may lose all or more than your initial investment. Opinions, market data, and recommendations are subject to change without notice. Past performance is not necessarily indicative of future results. This report contains research as defined in applicable CFTC regulations. Both RCM Asset Management and the research analyst may have positions in the financial products discussed.