I follow and have the ability to trade 5 different metals…in no particular order gold, silver, palladium, platinum and copper. For the most part I am most active in gold and silver with clients, use copper to help navigate other trades interpreting the overall breadth of the economy and rarely do clients trade palladium and platinum. Today I will take a brief look at these 5 metals and forecast where prices go from here.
Gold: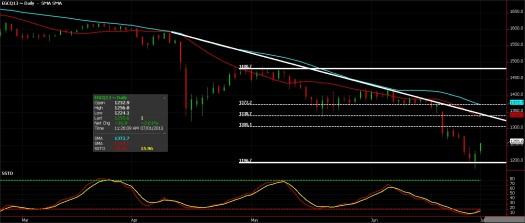 Gold just finished one of its worst quarters in over four decades as prices last week briefly trade under $1200/ounce. A large number of investors/advisors/media type have discounted gold with forecasts of sub $1000 levels and that likely means it won't happen. Prices under $1200/ounce did not last too long as of this post prices are higher by 3% and $60/ounce above that level. While it may be too early to call an ultimate low futures should at least experience a 38.2% Fibonacci retracement lifting August futures to $1300/ounce. A return to the trend line that has capped upside since the massive sell off in April lifts this contract to $1335.
Silver: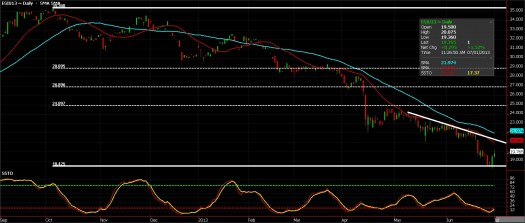 I'm sure most of you read my piece from Friday documenting a 7% reversal in silver…this is kinda a big deal. As of this post futures are 8.5% off lows made last week. Like gold it is premature to call a low but a bounce is the way I would position yourself at this juncture. I've suggested back ratio spreads in September and also think being long futures with some options protection is advisable; selling calls of buying puts. Use the 20 day MA (red line) and 40 day MA (light blue line) as your objectives on open positions.
Palladium: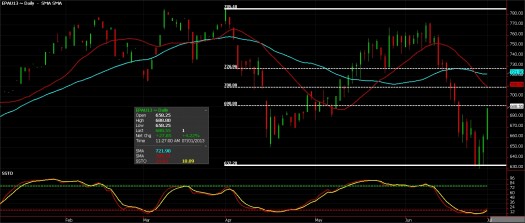 Today marks the third consecutive day that palladium prices have risen…currently within $5 of completing a 38.2% Fibonacci retracement. We are rebounding off the lowest levels in 13' and in three short days futures have advanced 9%. A 50% retracement lifts September to $709 and I would not rule out a 61.8% retracement elevating price above $725.
Platinum: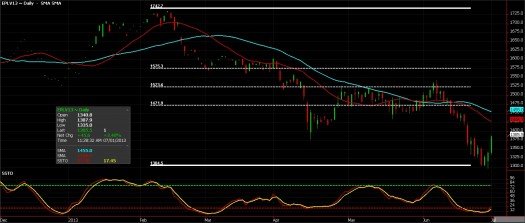 Similar track record in platinum as we are also embarking on the third positive session in as many days. We have not seen as much appreciation with platinum 6.6% off its recent lows. It will take an additional 6.5% appreciation to put prices at their 38.2% Fibonacci level so consider about ½ the move has taken place that I expect to play out.
In recent posts I've suggested that the $3 level will hold in copper and after several probes in that proximity in the last week all lower trade was rejected…as the saying goes even a blind squirrel occasional can find nuts. As of this post copper prices are higher by 3.2% fast approaching the 20 day MA (red line). Even in the face of weak data out of China copper shrugged this off. On bearish news and a market moves higher we should see further upside in my opinion. Do not rule out a test of the resistance that capped upside in May and June near $3.40 in the coming weeks.
As always, I'm here to discuss specifics and give guidance. Shoot me an email…Give me a call…you can reach me at: mbradbard@rcmam.com or 954-929-9997
Risk Disclaimer: This information is not to be construed as an offer to sell or a solicitation or an offer to buy the commodities and/ or financial products herein named. The factual information of this report has been obtained from sources believed to be reliable, but is not necessarily all-inclusive and is not guaranteed to be accurate. You should fully understand the risks associated with trading futures, options and retail off-exchange foreign currency transactions ("Forex") before making any trades. Trading futures, options, and Forex involves substantial risk of loss and is not suitable for all investors. You should carefully consider whether trading is suitable for you in light of your circumstances, knowledge, and financial resources. You may lose all or more than your initial investment. Opinions, market data, and recommendations are subject to change without notice. Past performance is not necessarily indicative of future results. This report contains research as defined in applicable CFTC regulations. Both RCM Asset Management and the research analyst may have positions in the financial products discussed.
Related articles