In the last three weeks Crude oil futures have appreciated 15% lifting prices to 14 month highs. Since lows were established on 4/18 prices have advanced nearly 25%. This will not continue at least at this velocity and in fact at the moment I feel prices have gotten ahead of themselves and we could see deprecation in the short-term.
As opposed to say it will happen tomorrow or even this month what if we widened the window to allow a trade to play out over the next 6, 12 even 18 months? Together with one of my colleagues; Kevin Davitt that I do a lot of energy trading with we devised a strategy in the energy sector to do exactly that. Please do not misinterpret me and think that because we have two legs there is less risk…we could be wrong on both legs and incorrect on the directional play… the spread between December 14' and December 13' could continue to widen.
[box]To discuss in more detail Energy trades you can reach him at: kdavitt@rcmam.com or 312-870-1520[/box]
See two charts below: the spread between the (2) futures contracts and the suggested trading strategy.
December 14'/December 13' Crude oil: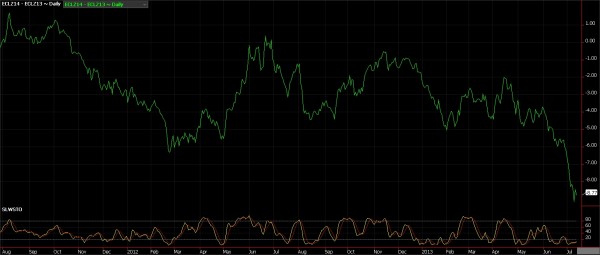 December 14' Crude is nearing a $9 discount to December 13' Crude. This is the widest margin we have seen in years. I can only get data back to July 11' with my software on this spread. Prior to this rout in recent months the highest discount was in the fall of 12' at $6.50. Every $1 move in the spread equates to a $1,000 gain/loss. In the coming weeks to months I anticipate the spread narrowing to -$4.00-6.00. I think most of the pain is behind us but start with small size and be willing to scale into the trade. In full disclosure I think it a far better way to play this via options vs. outright futures and that is how I will be suggesting my clients to potentially capitalize on this opportunity. See suggested strategy below.
Buy December 14'$110 Crude call/ Sell December 13' $115 Crude call 1:1: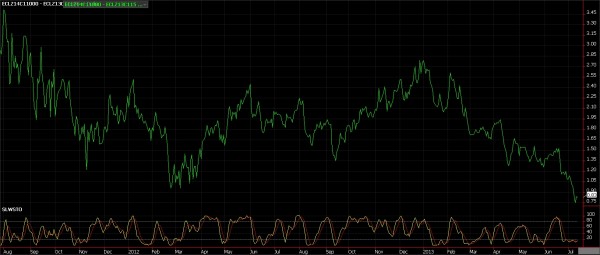 [twocol_one]December 13' futures @ $100.97
Selling $115 call for approximately $900
127 days until expiration
15 delta[/twocol_one] [twocol_one_last] December 14' futures @ $92.00
Buying $110 call for approximately $1,700
494 days until expiration
19 delta[/twocol_one_last]
Currently it looks like this spread can be bought for approximately $800-850. To trade back to the median price we have seen in 13' lifts this spread back to $1750/1800. What would it take to see this type of price action? The spread narrowing which would likely mean a noteworthy correction in the near term dragging Crude back to $90/95 barrel. Theta or time decay in the 13' option that have 75% less time value. An appreciation in forward contracts which means we would need to see demand increase on the curve which I view as the least likely case for this trade being profitable. Needless to say for a trade with this risk/reward dynamic I think it merits energy trader's attention.
As always, I'm here to discuss specifics and give guidance. Shoot me an email…Give me a call…you can reach me at: mbradbard@rcmam.com or 954-929-9997
Risk Disclaimer: This information is not to be construed as an offer to sell or a solicitation or an offer to buy the commodities and/ or financial products herein named. The factual information of this report has been obtained from sources believed to be reliable, but is not necessarily all-inclusive and is not guaranteed to be accurate. You should fully understand the risks associated with trading futures, options and retail off-exchange foreign currency transactions ("Forex") before making any trades. Trading futures, options, and Forex involves substantial risk of loss and is not suitable for all investors. You should carefully consider whether trading is suitable for you in light of your circumstances, knowledge, and financial resources. You may lose all or more than your initial investment. Opinions, market data, and recommendations are subject to change without notice. Past performance is not necessarily indicative of future results. This report contains research as defined in applicable CFTC regulations. Both RCM Asset Management and the research analyst may have positions in the financial products discussed.