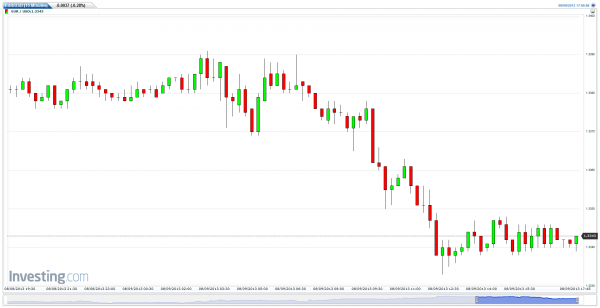 Energy: I was looking for a rally to get short Crude oil again after exiting client's bearish trades and the market delivered higher by 2.64% today. I did not catch the high today so clients that resold October futures are down on the futures leg. I opted to buy 1:1 September $105 calls against their short futures. They are intrinsic but there is only 7 days until expiry next week…I will manage the trade next week…stay tuned. The 8 day and 18 day MAs key pivot points we're violated today so do not rule out higher ground early next week hence the options hedge. RBOB is back above its 50 day MA advancing 1.77% today. It could go 5—10 cents either way that is why I opted to exit. Forced into the market I'd rather be long RBOB against heating oil or lightly long both into next week. Heating oil gained 1.22% above its 50 day MA but just under the 8 day MA…crap shoot short term. When putting this on I opted to take off the crack spread recently purchased at just under a 2 cent profit, every penny is $420 per spread. The 8 day MA is your first hurdle that needs to be overcome just above today's highs to see a further advancement. Futures gave back some of yesterday's gain off by 2% today. I love buying natural gas at these levels thinking we are very close to our lows for the year. See previous posts to gain more precise insight. Those working into longs should have a first objective at the gap in the chart near $3.55/3.60.
Stock Indices: The S&P traded lower 4 out of 5 sessions this week but the total loss only amounted to a loss of 16 points and prices are still within 1.1% of their all time highs. I smell correction but I'm not sure my exocrine glands are up to par because I've smelled this stench for several weeks and been dead wrong. If futures fail to revisit 1700 in the coming weeks I say the 50 day MA is seen at 1645 and am not ruling out the 100 day MA in August or September at 1615. The Dow closed lower on the week for only the second week in the last seven. Futures are 225 point off the record highs made last week. I am not looking for the bottom to fall out but I do think we trade under the 50 day MA in the coming weeks, that level is 15200. Under that level next stiff support is at the 100 day MA at 14965.
Metals: Gold probed the 50 day MA but failed closing just under $1313 in December futures ending only $2 higher on the week. If we cannot get above that pivot point into next week I think the grind lower resumes dragging futures under their recent lows and back towards levels seen in late June. Silver picked up just better than 1% today and is $1.30 an ounce off the intra-week lows. The most impressive thing to me is we closed over the 50 day MA for the first time since February. I did not get sucked into this bullish trade but I may regret that into next week. Just above today's highs also comes in resistance with the down sloping trend line that has capped upside for all of 13'. I am on the sidelines with most clients for now but next week I may make a move so keep informed. Copper has gained 9% in the last 2 weeks and hit $3.30 as previously forecast. The easy money has been made on this leg but we may still get a $3.40 trade before a correction.
Softs: Cocoa hit 11 month highs on dry weather out of West Africa but trades above $2500 were rejected. I like the idea of buying put options to play a 5-8% retracement. Sugar has traded higher the last four weeks and if we get a freeze in SA over the weekend expect this to continue. Scale into bullish trade in 14' contracts with stops just under the 50 day MA. Cotton gained nearly 5% on the week but I missed the trade with clients. If it was not for a USDA report on Monday I'd probe bearish trades with tight stops but I think we should wait until after the report…stay tuned. OJ is 9% off levels from 2 weeks ago as I started to work out of bearish trades for clients today at a tidy profit. I still have some exposure with a few clients. Those that stayed in did a partial hedge today. They are in bearish trades in November so we sold October puts to lock in a profit into the USDA report. I will manage the trade Monday accordingly for these clients. 5 out of the last 6 sessions coffee has finished in the green putting on a quick 7 cents ($375 per) and probing the 50 day MA today for the first time since the last freeze spike in mid -July. I'll be paying attention to the weather in Brazil over the weekend as should you if in coffee trades. My preferred play is long December futures with options protection.
Treasuries: 30-yr bonds closed above their 20 day MA and are on their way to 136'00 in my opinion. Those in bullish futures trades should have a stop loss just under the 9 day MA, currently at 133'20. 10-yr notes maintained trade above both its 9 and 20 day MAs closing higher on the week. As long as those levels hold remain in bullish trade with an upside objective at 127'16. I know that is not too ambitious and I do think there are far better trading opportunities elsewhere. If forced to play in the debt complex I like the short end of the curve. Continue to short Eurodollars as I think investors should get some skin in the game ahead of the next FOMC meeting that is 5 weeks away. My suggestion remains scaling into bearish trades in 16' contracts.
Livestock: Inside day with a negative close in live cattle today but on the week futures were higher by 1.53% lifting cattle to their highest trade since early May. As long as we maintain the 9 and 20 day MAs approximately 1% under current pricing traders could be in bullish trade expecting more appreciation. In the last 2 months every trade attempt at 87 cents in October lean hogs has been rejected. This happened mid week and we closed 2.3% off those levels. I like bearish positioning via short futures with long calls 1:1 to protect from a spike higher. I am looking for a trade near 82 cents in this contract.
Grains: USDA report Monday 8/12 Corn lost 1.41% to settle at fresh lows only pennies from $4.50 bushel. Where the bottom is no one knows? I do not see stiff support until $4.25 and that level could be challenged on a breach of $4.50. I will have very little client exposure headed into the report. Only a few September calls that are cabinet. If we get a spike huger on the number I will look to be a seller next week near $5/bushel. A trade above the 9 day MA did not last long in soybeans as we closed 12 cents off the highs and back under that key pivot point. I am interested in selling rallies for clients here next week as well. For the fifth straight week soybean oil closed lower this week lower by 2.31% in December. I started selling puts for some clients this week as I think we are nearing an inflection point. Wheat was lower 4 out of 5 days this week posting a new low and off by 3.7% on the week. On the fresh lows today clients were stopped out of remaining bullish trades. I will be flat into the USDA and will look to be a buyer from lower levels in the coming weeks.
Currencies: The US dollar gained for the first time in 6 sessions today albeit a marginal gain. I think we are nearing an inflection point and we see a bounce in the not too distant future. My objective in September futures is 82.25/82.50. It has been a losing proposition of late but that is why traders use stops. Once again you could probe shorts in the Swiss and Euro with stops above the recent highs in my opinion. I was wrong on the commodity currencies and they may grind higher into next week…I'm on the sidelines but if you are long trail stops and milk the trade. I will look to be a seller of the Aussie and Loonie from higher levels…stay tuned.
Click on button to purchase Research:
[button link="http://www.rcmfutures.com/research/rcm-research-subscriptions-trials/matthew-bradbard" style="tick"]Bradbard Research[/button]
As always, I'm here to discuss specifics and give guidance. Shoot me an email…Give me a call… you can reach me at: mbradbard@rcmam.com or 954-929-9997
Risk Disclaimer: This information is not to be construed as an offer to sell or a solicitation or an offer to buy the commodities and/ or financial products herein named. The factual information of this report has been obtained from sources believed to be reliable, but is not necessarily all-inclusive and is not guaranteed to be accurate. You should fully understand the risks associated with trading futures, options and retail off-exchange foreign currency transactions ("Forex") before making any trades. Trading futures, options, and Forex involves substantial risk of loss and is not suitable for all investors. You should carefully consider whether trading is suitable for you in light of your circumstances, knowledge, and financial resources. You may lose all or more than your initial investment. Opinions, market data, and recommendations are subject to change without notice. Past performance is not necessarily indicative of future results. This report contains research as defined in applicable CFTC regulations. Both RCM Asset Management and the research analyst may have positions in the financial products discussed.