Silver is higher by nearly 5% today trading to its highest levels since 6/19. Since 6/28 when September futures traded as low as $18.17 (33 month low) prices are higher by 17.4%. Two significant developments in the last two trading sessions…a settlement above the 50 day MA (light blue line) which had not occurred since 2/4 when futures were trading $32/ounce and perhaps more notably a penetration of the down sloping trend line (red line) that had caped all upside attempts since February.
The train appears to be leaving the station and my clients have yet to jump on board. This is the type of trade that we are on the sidelines wishing we were in but I'd rather be in that position with clients than in the trade wishing we were on the sidelines. Next upside resistance is seen at the 100 day MA (red line) currently just above $22.50…a further 5.5% appreciation. I will be looking for a retracement and retest of the 50 day MA to see if it makes sense to get clients positioned in bullish trade out until December.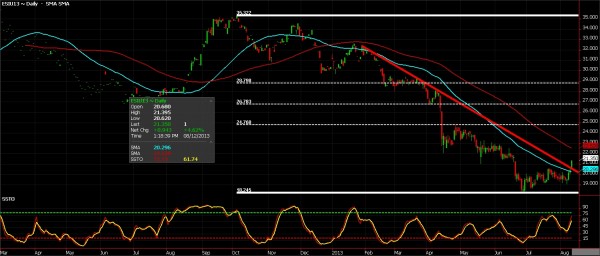 Looking at two things today, a weekly chart of silver and what the seasonality looks like in Q4 convinced me that on a retracement I will try to get clients bullish exposure. Of course technicals alone and historical patterns do not make this a sure thing so tread lightly as silver can be one of the most unforgiving commodities if caught on the wrong side. One hesitation I had was thinking the greenback could stage a rally and that it could act as a drag on silver. However if prices remain range bound in the dollar trading between 84 and 81 much like we have in the last six months I think the buck could have minimal bullish or bearish impact as silver would be impacted by its own circumstances. Also I want to have clients positioned in more markets that would likely appreciate on hints of inflation that could come from the September FOMC meeting. For example long more commodities and short stocks and the debt complex….look for trading ideas in the weeks to come to support this thesis.
Click on link to purchase Research:
As always, I'm here to discuss specifics and give guidance. Shoot me an email…Give me a call… you can reach me at: mbradbard@rcmam.com or 954-929-9997
Risk Disclaimer: This information is not to be construed as an offer to sell or a solicitation or an offer to buy the commodities and/ or financial products herein named. The factual information of this report has been obtained from sources believed to be reliable, but is not necessarily all-inclusive and is not guaranteed to be accurate. You should fully understand the risks associated with trading futures, options and retail off-exchange foreign currency transactions ("Forex") before making any trades. Trading futures, options, and Forex involves substantial risk of loss and is not suitable for all investors. You should carefully consider whether trading is suitable for you in light of your circumstances, knowledge, and financial resources. You may lose all or more than your initial investment. Opinions, market data, and recommendations are subject to change without notice. Past performance is not necessarily indicative of future results. This report contains research as defined in applicable CFTC regulations. Both RCM Asset Management and the research analyst may have positions in the financial products discussed.