For the better part of three weeks coffee prices have largely been range bound consolidating just above their recent lows. The market is in the process of digesting a massive Brazilian crop and the outlook for a potential record crop again next year. Brazil is the 800 lb. gorilla in the coffee market and should serve as a supply burden in the coffee market. Additionally coffee is factoring in a strong recovery in the Colombian coffee market. Colombian exports are increasing and their production is expected to near 10 Million bags in 13' up from 7.7 million in 12'. Two bearish supply factors and likely good cause why prices will not return to the $140/150 level seen four month ago but I do think in the coming weeks we could see a $130 trade.
This week December futures look to gain for only the second week in the last five weeks on the back of a recovery in the Brazilian Real. Continued strength in the currency could ease pressure on exports that were previously being aggressively marketed. Technically speaking futures remain oversold and I would not rule out a short covering rally if we were to see futures trade above their 50 day MA (red line).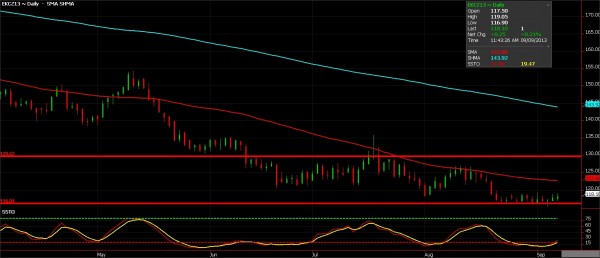 Assuming the bottom red line serves as support and with an objective at the upper red line drawn on the chart above I like the risk/reward dynamic, 2-3 cents of perceived risk and 10-12 cents of profit potential. My favored play is long December futures and using an options leg as protection, either purchasing a November put or selling a December call 1:1 against the futures.
The idea is to make more money in the future leg than you lose in the options leg but to provide a smoother ride and for no sleepless nights.
Click on link to purchase Research:
As always, I'm here to discuss specifics and give guidance. Shoot me an email…Give me a call… you can reach me at: mbradbard@rcmam.com or 954-929-9997
Risk Disclaimer: This information is not to be construed as an offer to sell or a solicitation or an offer to buy the commodities and/ or financial products herein named. The factual information of this report has been obtained from sources believed to be reliable, but is not necessarily all-inclusive and is not guaranteed to be accurate. You should fully understand the risks associated with trading futures, options and retail off-exchange foreign currency transactions ("Forex") before making any trades. Trading futures, options, and Forex involves substantial risk of loss and is not suitable for all investors. You should carefully consider whether trading is suitable for you in light of your circumstances, knowledge, and financial resources. You may lose all or more than your initial investment. Opinions, market data, and recommendations are subject to change without notice. Past performance is not necessarily indicative of future results. This report contains research as defined in applicable CFTC regulations. Both RCM Asset Management and the research analyst may have positions in the financial products discussed.