US Treasury futures are lower for the third day running amid fresh signs of economic expansion, putting the yield of the benchmark 10-yr Notes on the cusp of rising above 3% for the first time in 2 years. According to ADP today the US added 176,000 jobs in August. A key gauge of the US service sector (ISM Non-Mfg PMI) rose to its highest level since 08'. The consensus is the pace of US economic growth is gaining momentum potentially clearing the way for the Fed to start curtailing its monthly bond purchases. Fridays NFP # is viewed as the next key catalyst and then a FOMC policy meeting shortly thereafter where the Fed could signal a reduction of their bond purchases, currently at $85B monthly.
The bottom line is regardless of what end of the curve yields have increased primary because the markets have priced in how long the Fed will keep the current program at hand. The sharp rise in yields since May has caught many an investor off guard fueling a mass exodus from fixed income and it has been like a snowball rolling down a hill. Since the start of June approximately $120B in cash has fled the debt sector, according to TrimTabs Investment Research. It is estimated that $1.2T flowed into bond funds between 09'-12' so this would represent a 10% haircut in the last few months with no end in sight.
I think traders should continue with their bearish bias. Below you will see three charts: 30-yr bonds, 10-yr notes and Eurodollars. My favored play is bearish exposure in the short end of the curve-Eurodollars.
30-year U.S. Treasury Bonds: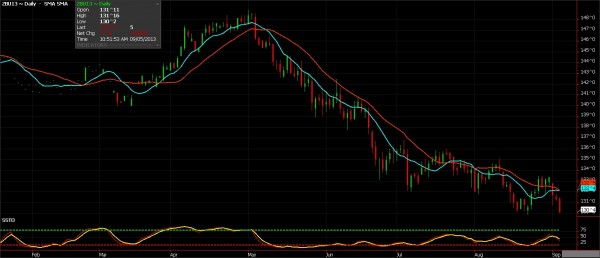 10-year U.S. Treasury Notes: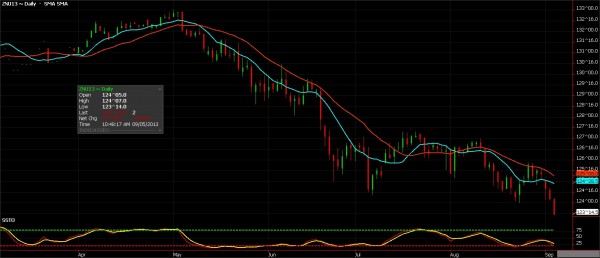 Eurodollars: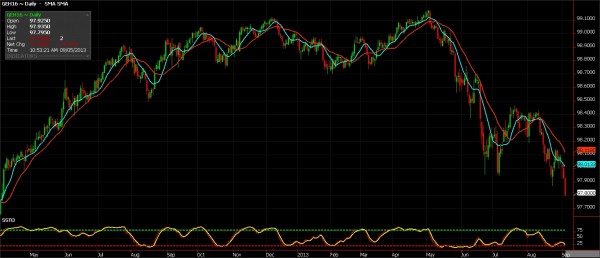 Look to continue fading rallies in these instruments, clients that are building short length in futures could partially hedge their open profits by purchasing out of the money calls. I do think traders should hold bearish trades into the coming FOMC meeting…approximately 2 weeks out.
Click on link to purchase Research:
As always, I'm here to discuss specifics and give guidance. Shoot me an email…Give me a call… you can reach me at: mbradbard@rcmam.com or 954-929-9997
Risk Disclaimer: This information is not to be construed as an offer to sell or a solicitation or an offer to buy the commodities and/ or financial products herein named. The factual information of this report has been obtained from sources believed to be reliable, but is not necessarily all-inclusive and is not guaranteed to be accurate. You should fully understand the risks associated with trading futures, options and retail off-exchange foreign currency transactions ("Forex") before making any trades. Trading futures, options, and Forex involves substantial risk of loss and is not suitable for all investors. You should carefully consider whether trading is suitable for you in light of your circumstances, knowledge, and financial resources. You may lose all or more than your initial investment. Opinions, market data, and recommendations are subject to change without notice. Past performance is not necessarily indicative of future results. This report contains research as defined in applicable CFTC regulations. Both RCM Asset Management and the research analyst may have positions in the financial products discussed.
Related articles