Since establishing a bottom on 11/22 cotton prices have appreciated 14% yesterday trading to their highest levels since 8/20. While past performance is not indicative of future results you can clearly see a pattern on the chart below that prices in the high 80's appears to be unsustainable? I am operating under the influence that futures are very close to finding an inflection point and I see prices in the low to mid 80's in the coming weeks.
In 2013 China was big buyer of cotton building up their domestic reserves. China recently announced in 2014 they will scrap the controversial scheme to stockpile the commodities and will trial direct subsidies for farmers instead. The key is not that they're subsidising farmers but how much they will give. my feeling is that cotton may come under pressure from the change as it could free up more locally grown cotton, denting China's demand for imported fiber…hence lack of demand for US cotton. In recent years in Ag, energies and metals China's voracious appetite for commodities or lack there of has been an influence on underlying prices. That in combination with a technical overbought market and preliminary signs of exhaustion are the reasons I feel bearish trade make sense at this juncture.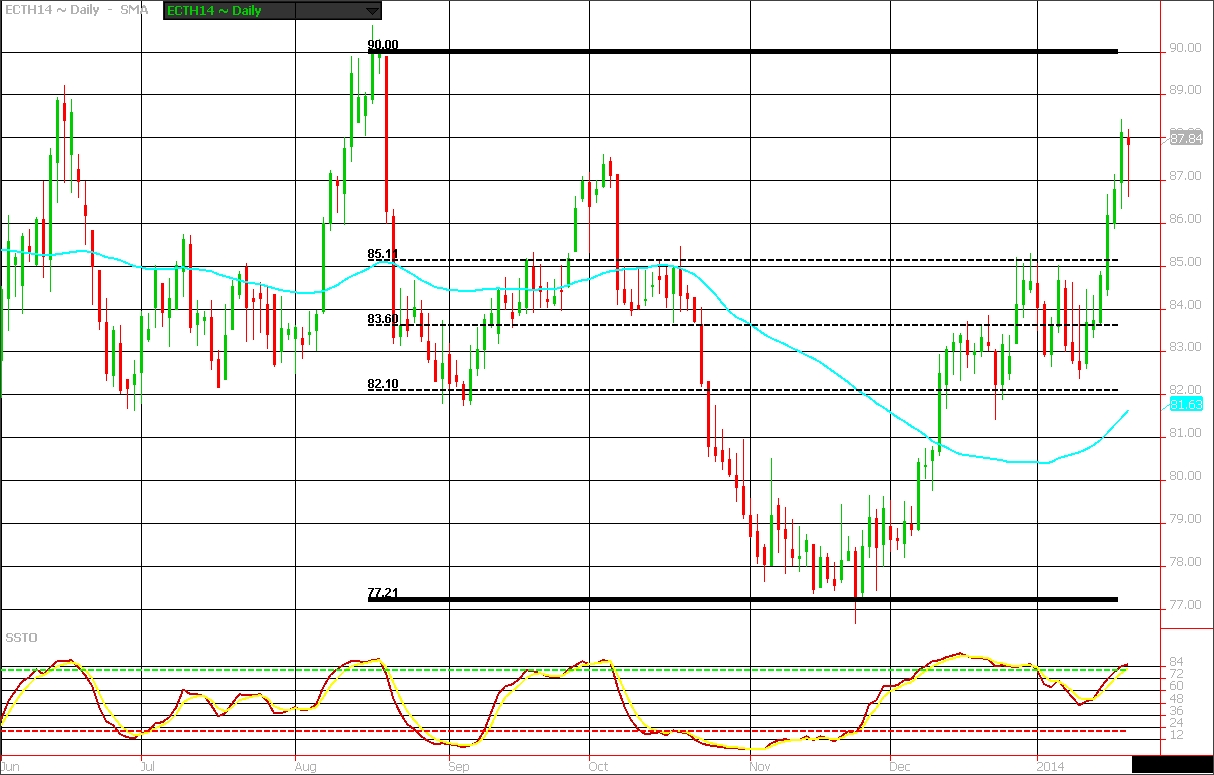 Cotton Futures Trade ideas:
Though I show a chart of March futures which is the current front months an where most of the action is I'd prefer for an options trade to have a little more time so I've opted to trade May contracts with clients.
Buy (1) in the money 90 put while simultaneously selling multiple (2 or 3) May 81 puts. I am looking to hold for the next 30-60 days and expect prices to grind lower. My 90 leg should be intrinsic and I am looking to capture 70-70 of the move based on the current delta. I am also looking for theta decay as ultimately I expect support to be found 82-84 cents so my other leg sold should not go intrinsic. Today clients paid $900 in premium per strategy.
If held until expiration this trade makes money with futures under 88.2. If we see prices move violently lower we will need to manage the trade and make adjustments…stay tuned.
Click on link to purchase Research:
As always, I'm here to discuss specifics and give guidance. Shoot me an email…Give me a call… you can reach me at: mbradbard@rcmam.com or 312-870-1653
[typography font="Cantarell" size="11″ size_format="px"]Risk Disclaimer: This information is not to be construed as an offer to sell or a solicitation or an offer to buy the commodities and/ or financial products herein named. The factual information of this report has been obtained from sources believed to be reliable, but is not necessarily all-inclusive and is not guaranteed to be accurate. You should fully understand the risks associated with trading futures, options and retail off-exchange foreign currency transactions ("Forex") before making any trades. Trading futures, options, and Forex involves substantial risk of loss and is not suitable for all investors. You should carefully consider whether trading is suitable for you in light of your circumstances, knowledge, and financial resources. You may lose all or more than your initial investment. Opinions, market data, and recommendations are subject to change without notice. Past performance is not necessarily indicative of future results. This report contains research as defined in applicable CFTC regulations. Both RCM Asset Management and the research analyst may have positions in the financial products discussed.[/typography]
Related articles