Record high after record high with April live cattle trading near $140 yesterday before stalling. The red horizontal line drawn on the chart below serves as my line in the sand. It will take a settlement below $139 to confirm an interim top. Ultimately I see futures on this contract trading back to the trend line that comes in just below $135 in April futures…this represents a 2.8% loss in value.
Supplies of slaughter ready cattle remains historically tight, forcing meat processors and even retailers to pay up to fill orders for their beef products. This has been a vicious cycle! A break in cash prices would be a preliminary sign that prices on the board are due for a set back. Reading a piece on Reuters this AM a livestock analyst ,made a great analogy…"when you stretch the rubber band too far, it can sometimes stretch too hard the other way when it snaps back."
A set back would likely start with profit taking and as I alluded look for cash prices as a precursor to futures setting back.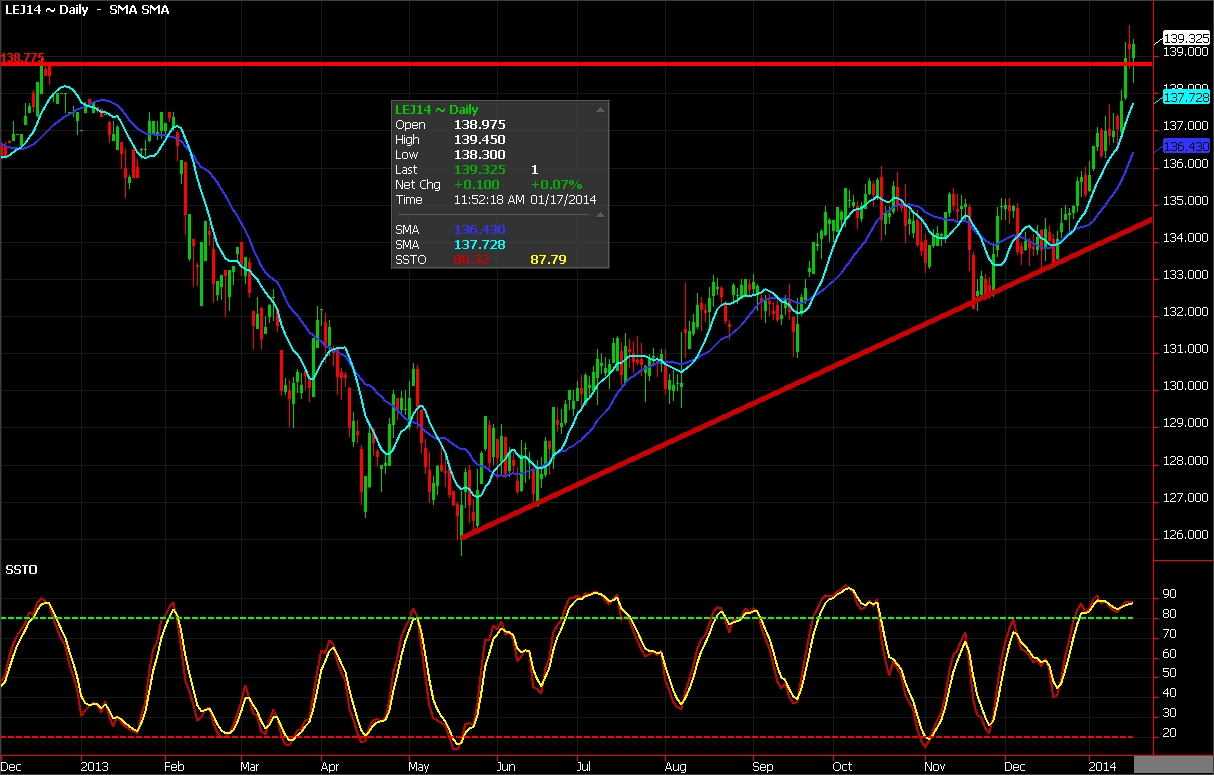 Live Cattle Futures Trade idea:
Short (1) April live cattle futures targeting a trade under $135, current trade at 139.25. As opposed to a stop or open ended risk let's buy a February 141 call to stop us out if the market continues to run higher. You have protection for the next 22 days. This option should cost approximately $350 per. If futures roll over you make in the futures and lose in your option. Worst case you can lose the premium paid plus 75 tics or $300 per futures(depending on exact fill). So your looking at about $700 of risk per strategy as long as your out on options expiration.
Click on link to purchase Research:
As always, I'm here to discuss specifics and give guidance. Shoot me an email…Give me a call… you can reach me at: mbradbard@rcmam.com or 312-870-1653
[typography font="Cantarell" size="11″ size_format="px"]Risk Disclaimer: This information is not to be construed as an offer to sell or a solicitation or an offer to buy the commodities and/ or financial products herein named. The factual information of this report has been obtained from sources believed to be reliable, but is not necessarily all-inclusive and is not guaranteed to be accurate. You should fully understand the risks associated with trading futures, options and retail off-exchange foreign currency transactions ("Forex") before making any trades. Trading futures, options, and Forex involves substantial risk of loss and is not suitable for all investors. You should carefully consider whether trading is suitable for you in light of your circumstances, knowledge, and financial resources. You may lose all or more than your initial investment. Opinions, market data, and recommendations are subject to change without notice. Past performance is not necessarily indicative of future results. This report contains research as defined in applicable CFTC regulations. Both RCM Asset Management and the research analyst may have positions in the financial products discussed.[/typography]
Related articles