The long spell of unrest and civil turmoil in the Middle East has had the commodities markets in flux. Oil and other energies in particular have featured a considerable risk premium as oil-producing nations found themselves in the midst of war and unrest. However there are signs that these major geo-political tensions are being relieved as Libya's acting Prime Minister Abdullah al-Thinni announced that a deal had been struck between the government and Libyan rebels led by Ibrahim al-Jathran to reopen two major terminals that normally handle around half of the OPEC nation's oil exports, ending the blockade that had all but crippled the nation's oil industry.
Brent Crude oil stands at around $110.7 per barrel, its lowest price since June 12th, on little more than the prospect of exports resuming, and heading for its biggest weekly decline since January on the back of the news. The two terminals being "re-taken" by the government would make up to an additional 560,000 barrels a day available for export to the beleaguered African nation, nearly half their total export capacity.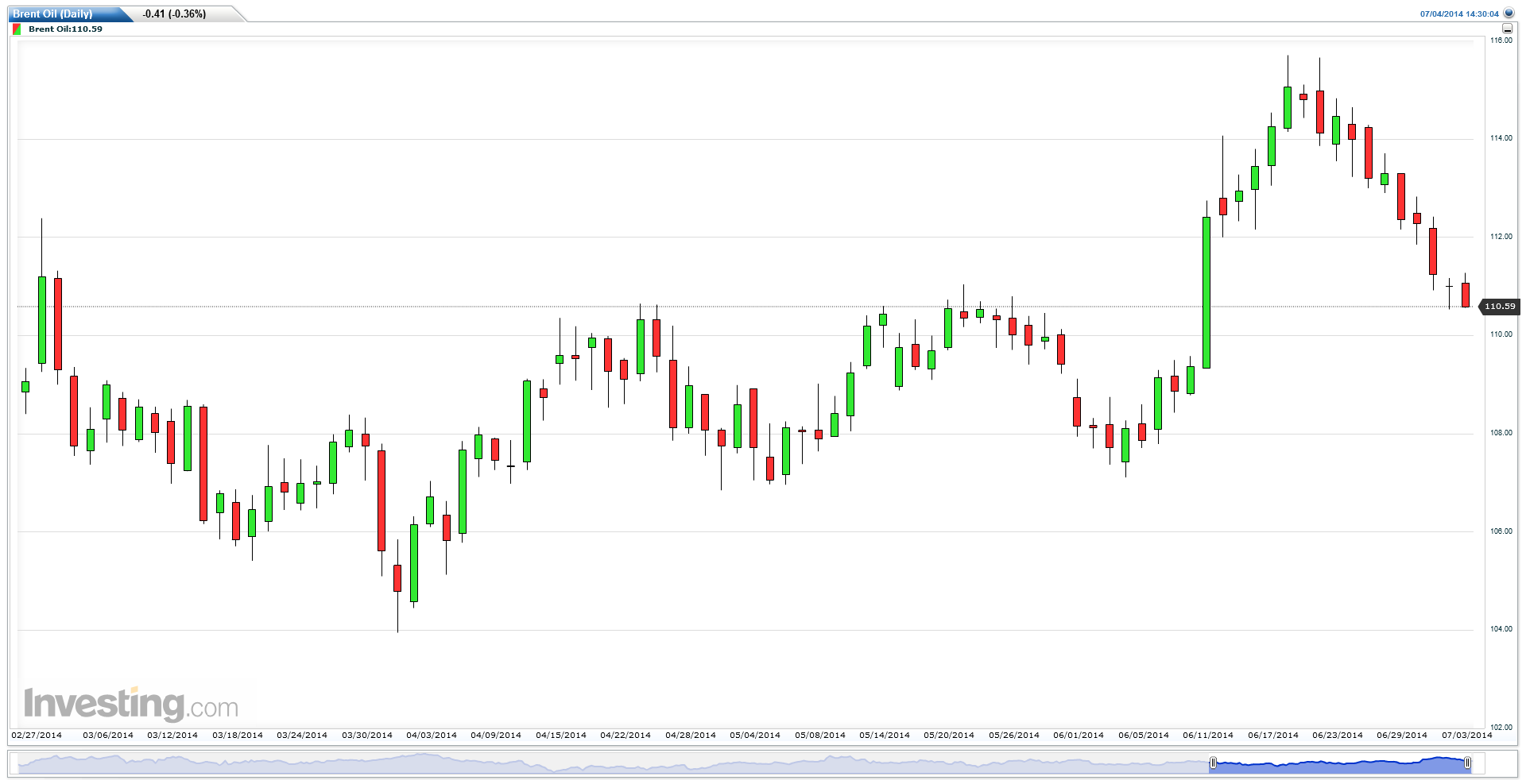 In the last few weeks, the price of oil had been inflated as Sunni militants took over large parts of Iraq, and concerns were abundant that the conflict would spread to the south of the country, where Iraq's major oil fields are. The possibility of Libyan exports resuming at their normal export capacity of around 1.3 million barrels a day is welcome relief after strikes and armed occupations of oil fields and ports since the fall of Gadhafi left oil prices facing a great deal of inflationary risk.
However, worth noting is the fact that according to an oil official, there have been no official orders to restart operations at either of the plants. As Hans van Cleef, an energy economist at ABN Amro Bank NV, stated to Bloomberg: "We'll have to wait and see what actually happens, but for the moment it gives some relief. In Iraq we expect exports and production will probably remain untouched."
US oil futures have fallen for seven consecutive days on the back of the expectations of increased supply from Iran and now Libya, its longest losing run since December 2009. The lingering worries surrounding the Iraqi conflict however means that prices are yet to fall any further, as the situation provides a relatively high price floor. "If it wasn't for the situation in Iraq, with the possibility of higher Libyan supplies, more Iranian oil, we would have seen prices a lot lower," said Victor Shum, vice-president of energy consultancy IHS Energy Insight. "One would have to be really brave to sell in this market." He added.
The demand outlook is also strong, with US employment growth rising sharply in June, and the jobless rate hitting a six year low, as well as Chinese data indicating that factory activity there was at a several month high.
The oil market is thus in a delicate state of balance between nervousness about the crisis in OPEC's second largest producer, and bullishness about global demand.
Prepared by Shaun Myandee for IG Australia
This information has been prepared by IG Markets Limited. ABN 84 099 019 851, AFSL 220440. We provide an execution-only service. The material on this page does not contain (and should not be construed as containing) personal financial or investment advice or other recommendations, or an offer of, or solicitation for, a transaction in any financial instrument, or a record of our trading prices. No representation or warranty is given as to the accuracy or completeness of the information. Consequently any person acting on it does so entirely at his or her own risk. The information provided does not have regard to the specific investment objectives, financial situation and needs of any specific person who view it. IG accepts no responsibility for any use that may be made of the comments and for any consequences that result.